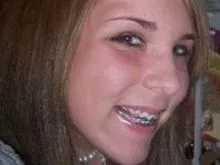 Megan Meier, cyber-bullying victim who committed suicide in 2006
Missouri Supreme Court justices believe legislators went too far with the 2008 anti-cyber-bullying law they passed in reaction to the suicide of
Megan Meier
.
(You may remember Meier as the 13-year-old from Dardenne Prairie who
hanged herself
after a different girl and that girl's mother posed on MySpace as a cute boy and told her, "The world would be better off without you.")
The Court struck down part of the 2008 law yesterday, while ruling on a totally separate case from Scott County. In
that case
, state prosecutors had used the law to go after a man named Danny Vaughn, who had repeatedly phoned his ex-wife even after she told him to stop, then appeared inside her house to frighten her.
Vaughn
asked
the trial court to dismiss the charges against him because the statute was too vague under the Missouri and U.S. Constitutions. The trial court took his side. The prosecutors
appealed
, but yesterday, the state Supreme Court justices held the line for the lower court - at least in part.
The whole argument centered on these two parts of
the 2008 harassment law
: "A person commits the crime of harassment if he or she....
(5) Knowingly makes repeated unwanted communication to another person; or

(6) Without good cause engages in any other act with the purpose to frighten, intimidate, or cause emotional distress to another person, cause such person to be frightened, intimidated, or emotionally distressed, and such person's response to the act is one of a person of average sensibilities considering the age of such person.

There's a big problem with that first part, wrote Judge William Ray Price Jr. in his unanimous opinion:
"Repeated," "unwanted," and "communicate" are simply words that can be applied too broadly.... individuals picketing a private or public entity would have to cease once they were informed their protestations were unwanted. A teacher would be unable to call a second time on a student once the pupil asked to be left alone. Salvation Army bell-ringers collecting money for charity could be prosecuted for harassment if they ask a passerby for a donation after being told, "I've already given; please don't ask again." An advertising campaign urging an elected official to change his or her position on a controversial issue would be criminalized.

The second part, however, was indeed constitutional, the Court found. The case has been remanded back to the trial court.
Read the entire opinion
here
.