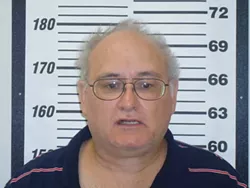 William B. Sackman was apparently planning an epic Memorial Day barbecue. The Oakville man drove to a Dierbergs in Shiloh, Illinois, last Sunday and allegedly gathered prodigious quantities of the staples: Eighteen bottles of liquor, ten cases of infant formula and an unspecified amount of ribs. According to store employees, he then tried to leave without paying, at which point they detained him.
If you're trying to picture how he would have hidden 18 bottles of hooch in his pants, don't strain yourself. As a former grocery store clerk I assure you that people walk away with cartloads of food and general merchandise on a weekly basis. It's when someone gathers lots of booze that employees become suspicious, and 18 would qualify as "lots." Second on the list of suspicious purchases? Diapers/baby formula, followed closely by fresh meat.
Sackman was arrested at the scene on suspicion of theft, and then compounded his troubles by reportedly giving a fake name to police. He's been charged with felony theft and obstruction of identification, and is currently in jail on a $75,000 bond. If convicted, Sackman could serve two-to-five years and pay fines totaling $25,000.