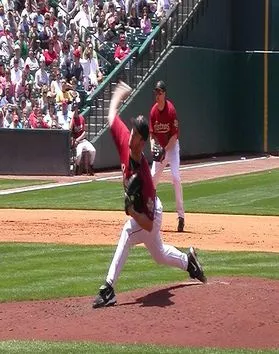 There's the answer, people. Sure, it's kind of a blurry answer, but an answer all the same.
John Mozeliak should be on the phone right now to Roy Oswalt. And I'll tell you why.
The
St. Louis Cardinals
scored nine runs last night. It was a beautiful offensive performance, just the kind of beating a team of this talent level should regularly put on pitchers the caliber of one
Joe Blanton
. He threw meatballs, they ate meatballs by the bucket. Nine runs, fifteen hits. Oh, and two walks. (Which still isn't nearly enough, but I suppose when you collect more than a dozen hits as a team there was a reason why everyone was swinging rather than taking.) Pretty good night for the sticks.
Problem is, the Cards managed to lose the game despite those nine runs, and fall out of first place, leapfrogged by the Cincinnati Reds, who have decided to do that thing they occasionally do these last couple years where they just don't lose a game for about two weeks.
Meanwhile, as the Reds have gone and gotten hot, the Cards have floundered. They just swept the San Diego Padres, yes, but before that they lost eight of ten. The friars helped the Redbirds out, but things have not been going well in general.
The reason things have not been going well is very, very simple: pitching.
The solution might be just as simple.
The Cardinals allowed a very offensively depleted
Phillies
team to score ten runs last night. They allowed six runs in all three games against the
Dodgers
. They allowed seven or more runs in all three against the
Braves
. Six runs by the
Cubs
in two straight games. Hell, the
San Francisco Giants
, one of the most offensively challenged teams in baseball, popped seven off Adam Wainwright and a parade of relievers. There have been some defensive issues in some of those games. There have also been some issues of throwing shitty pitches and watching them get hammered in those games.
Long story short, the pitching has sucked recently.
To wit, Jake Westbrook has allowed a total of fourteen runs in his last three starts. That's not so good. Kyle Lohse has been little better; in 22.1 May innings Lohse allowed 14 runs. And 34 hits. Again, not so good.
I loves me some Lance Lynn; sho nuff I do, but it looks as if the league might be catching up to him a bit at the moment as well. Ten runs in his last 18.0 innings, but the really worrisome thing is the 17 hits in the last 12. Personally, I think Lynn will make a few adjustments and get back on track, but for now he's hit a bit of a rough patch.
Adam Wainwright will be fine. His last outing was a thing of beauty, and I expect more of those as the season goes on. Jaime Garcia will be fine. He'll continue to be hugely underrated, but he'll be fine. Westbrook and Lohse, though, they worry me. And Lynn, too, to a lesser extent. He's got the stuff, and he seems to have the mentality, but let's face it: the track record is very short.
Against that backdrop of two pitchers whom I expect great things from, one I hope for really good things from, and two I don't really trust all that much, I think the time has come for the Cards to kick the tires on Oswalt again. They flirted with him in the offseason, of course; I'm sure we all remember the false excitement whenever a rumor would pop up that the Cards were close to bringing the former Astros ace in, only to have it whisked away, Charlie-Brown-football like.
The fact is, injuries or no, this Cardinal offense is going to be very, very productive this season. The Cards are second in runs scored in all of baseball, just two runs behind the Texas Rangers. (Who don't have a pitcher hitting, remember.) They lead the league period in OPS. Second in slugging. First in on-base percentage. It's a good offense. Like, really really really good.
The Cards desperately need something to help stabilize the starting rotation. (They could use some bullpen help, too, but I think the cavalry could be on the way from Memphis before too long this year. Maikel Cleto and Adam Reifer are names you will be hearing over the PA system at Busch sometime this summer. Bank on it.) There is one, and really only one, pitcher out there freely available who could step in and immediately bolster the Cards' rotation. That is Roy Oswalt. Johnny Mo already has his number on speed dial, I'm sure; now he just needs to use it.
What is a little worrisome is that there now seem to be some other teams in on Oswalt. The Rangers are still supposed to have some interest, though they also don't seem to want to match his asking price. The Baltimore Orioles -- ahem, that's the first place Baltimore Orioles -- have recently made some noise they might want to upgrade their rotation. It still looks as if Roy would prefer to play in Texas or St. Louis, though, giving the Rangers and Cardinals the inside track.
I don't know what it would cost to bring Oswalt in for half a season. Honestly, I don't care that much. This Cardinal team needs help. The rotation just isn't going to hold up for the long haul I don't believe. God only knows if Chris Carpenter is ever going to come back. The point of this year, all the signings of veteran players on short contracts, was to compete without touching the stockpile of minor league talent Jeff Luhnow left when he flew the coop for Houston.
Roy Oswalt is your upgrade. He costs only money, not talent. He immediately turns your weakest starter into Roy Oswalt. (And even 2011 Roy Oswalt was a 3.44 FIP pitcher.) I was fine with the Cards not signing Oswalt in the offseason, particularly when it seemed every other team decided to just give him a miss too. But right now, I think this team is in need of a rotation upgrade, and I think Roy Oswalt is the right guy for the job.
Do I think it will happen? Honestly, no. I think Oswalt wants top dollar to pitch part of the season, and I don't think the Cards are going to pay it. Do I think they should? Yes, I do. This team is too good -- they still have the best run differential in the National League, and it's not that close -- to see things keep tilting because of a leaky rotation.
There's one clear upgrade on the market, and it doesn't cost you the future. I think Roy Oswalt should be a Cardinal.