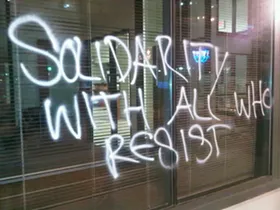 Photo by Nicholas Phillips
The protesters' handiwork at Fifth Third Bank on Olive St.
Around ten people were arrested downtown late last night after tagging some banks and scuffling with cops and civilians.
(Daily
RFT
happened to be a couple blocks away when the melee erupted. At about 10:40 p.m., the Cardinals game had just ended when white city police cars from all directions started squealing toward the intersection of
8th and Pine streets
all while a helicopter whirred overhead).
Turns out a few dozen people had been demonstrating downtown against the Chicago police's handling of protestors at the NATO summit last weekend, according to the
Post-Dispatch
. Then a few of them took it to the next level and tagged at least two banks: Fifth and Third on Olive Street, and The People's National Bank a couple blocks east. (The arrestees denied affiliation with the Occupy movement, apparently).
The property manager at the former bank tried to stop them, but got assaulted,
KMOV Channel 4
is saying.
A pair of bystanders at 8th and Pine told Daily
RFT
that the protesters (some of whom were wearing "black masks") mostly scattered when bicycle cops confronted them near that intersection, yelling, "FUCK YOU!!"
But two cops were assaulted, according to
KTV
I. One's hand was injured.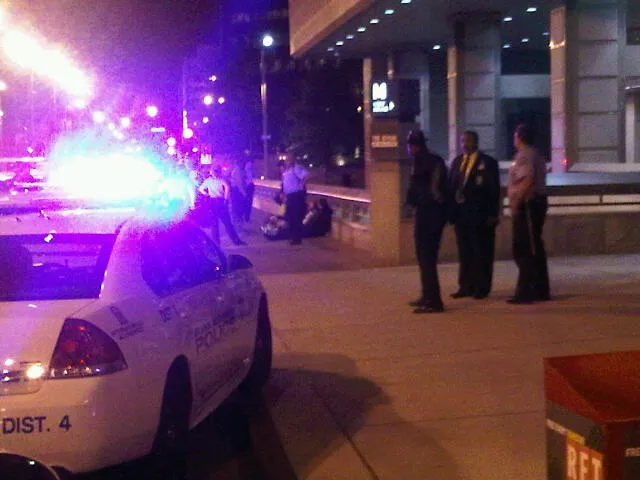 Photo by Nicholas Phillips
The arrested protesters are seated on the sidewalk.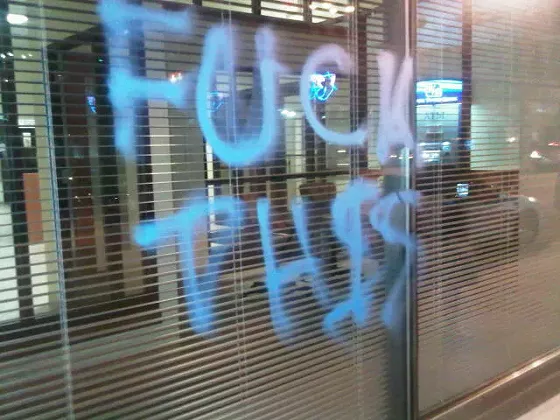 Photo by Nicholas Phillips
Another tag from the protesters