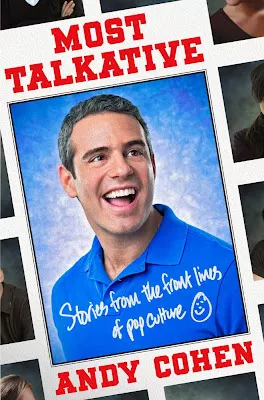 Here's your weekly St. Louis bestseller list for the week ending May 13, as compiled by the St. Louis Independent Booksellers Alliance and based on sales at Left Bank Books, Main Street Books, Pudd'nhead Books, Subterranean Books and Sue's News.
Following the ancient St. Louis precept that high school marks you for life, Bravo network exec and talk show host Andy Cohen has decided to title his new biography after his honorific in the 1986 Clayton High School yearbook: Most Talkative. The book tells the story of how he rose from humble beginnings interviewing Susan Lucci for his college paper to bringing the world the gifts of Queer Eye for the Straight Guy, Top Chef and the many, many iterations of Real Housewives.
Cohen has also managed to outsell 50 Shades of Grey. Bravo!
Also new to the list this week is Ready, Scrap, Shoot, the latest installment of local author Joanna Campbell Slan's Kiki Lowenstein Scrap-N-Craft Mystery series.
Adult Bestsellers:
1. Most Talkative: Stories from the Front Lines of Pop Culture by Andy Cohen 2. Fifty Shades of Grey by E. L James 3. You Have No Idea: A Famous Daughter, Her No-Nonsense Mother, and How They Survived Pageants, Hollywood, Love, Loss (and Each Other) by Vanessa Williams and Helen Williams 4. We Can All Do Better by Bill Bradley 5. Starting and Closing: Perseverance, Faith, and One More Year by John Smoltz and Don Yaeger 6. Ready, Scrap, Shoot (A Kiki Lowenstein Scrap-N-Craft Mystery) by Joanna Campbell Slan 7. Bossypants by Tina Fey 8. Fifty Shades Darker by E. L. James 9. Slant of Light by Steve Wiegenstein 10. The Light Bringer by Chris DiGiuseppe and Mike Force
Children's/YA Bestsellers:
1. Insurgent by Veronica Roth 2. The Hunger Games by Suzanne Collins 3. Mockingjay by Suzanne Collins 4. Oh, The Places You'll Go! by Dr. Seuss 5. The Kane Chronicles, Book Three: The Serpent's Shadow by Rick Riordan 6. Pete the Cat and His Four Groovy Buttons by by James Dean and Eric Litwin 7. Because of Mr. Terupt by Rob Buyea 8. Katana by Cole Gibsen 9. Sleeping Beauty by Michael Teitelbaum and Ron Dias 10. Duckling Gets a Cookie!? by Mo Willems