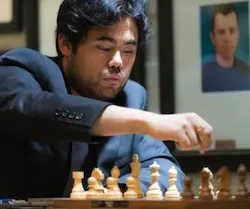 To know what it feels like to win the United States Chess Championship, earn $40,000 and reconfirm your status as the No. 1 chess player in the country -- and as the most promising American player since Bobby Fischer -- look no further than the Twitter status of the man who just did all of these things.
Twenty-four-year-year-old grandmaster Hikaru Nakamura talks regularly about life and the game in 140 characters or less, and his fans were not disappointed when, after his tenth round ended in an explosive endgame and eventual win against No. 2 Gata Kamsky, Nakamura aired his reaction online Friday night. So how does he feel? "LIKE. A. BOSS."
Hosted by the Chess Club and Scholastic Center of St. Louis, the 2012 US Chess Championship and US Women's Chess Championship sprawled across 15 days of black-and-white competition with a surprising amount of grey area when it came to predicting winners in a handful of games. Nakamura, a bold, mercurial player the RFT profiled last summer, played thirty moves against grandmaster Yasser Seirawan in his final game to cement his third U.S. Championship title. Seirawan resigned only two-and-a-half hours into the game.
"The big difference is that unlike when I won in 2005 and 2009, in this one I was well-established as the favorite, which means extra pressure," Nakamura says. A 16-year-old Nakamura claimed the title in 2005, and he repeated the feat in 2009. "When I won in 2005, I was quite good even back then, but I hadn't really started my rise to the top of American chess. I do live in St. Louis, too, so that adds another layer of pressure, but I enjoy the pressure and the big moment, so it didn't distract me too much."
Studio 314
Hikaru Nakamura plays in the 2012 US Chess Championship.
In the past decade, world No. 14 Kamsky has also scored the title thrice, making the pairing between him and Nakamura one of the tournament's most tense. (For that matter, Seirawan has also held the title -- four times.) Nakamura, who began the tournament seeded highest, lost none of his games, and he says his draws were his only true surprises during the past two weeks. "I went in wanting to win every game," he says. "During a long tournament, you just sort of have to move forward and keep from dwelling on it. But there's a big difference between losing a game and drawing a game, so in this tournament I'm still undefeated." He is one of only two players in the championship not to lose a game.
Studio 314
Irina Krush
A glance at recent live ratings show Nakamura up at 2782.6, his best to date. (This brings Fischer's highest score, 2785, closer within reach.) In the women's tournament, a winner emerged more slowly, with the final call coming in the last playoff round between Anna Zatonskih and Irina Krush yesterday afternoon. After Zatonskih blundered a rook, Krush earned her fourth US Women's Championship title.
In case you've missed some of the moving pieces, St. Louis has rapidly developed into the epicenter of American chess and carved out a significant niche in the international community since the Chess Club and Scholastic Center opened its luxurious, black-and-white doors in 2008. This is the fourth year the club has hosted the US and US Women's championships since 2009, and the city attracted Nakamura, who is ranked sixth in the world, shortly after that first round. Thanks in large part to heavy donor Rex Sinquefield, who promotes the game as a national sport, the club has created chess programs within the local academic community and was also instrumental in pushing the Boy Scouts of America to offer a merit badge in chess.
While St. Louis has twice won the US Chess Federation's "Chess City of the Year" award, the Chess Club and Scholastic Center earned the 2010 title of "Chess Club of the Year." In the coming months, Nakamura will travel to Moscow and Istanbul to play in tournaments -- but until then, he has at least three weeks off.
"After two weeks of playing chess every day, I just sort of want to relax," he says. "I'm sure I'll celebrate in some way later on."
Undoubtedly.
For knowledgeable details about the game, visit the championship website.