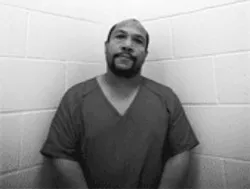 Jennifer Silverberg
Leonardo Drisdel in prison in 2005.
Former WGNU DJ Leonardo Drisdel has been convicted in the 2005 murder of Cassandra Kovack. Drisdel told police he'd smoked crack at Kovack's apartment and then heard a voice tell him that she was the devil, and ordered him to kill her.
He will be sentenced on June 29.
Drisdel was the subject of the Riverfront Times story "
Dead Reckoning
" back in 2005, which attempted to make sense of the murder and uncover what exactly happened that June night seven years ago. The story delves into Drisdel's past and his frame of mind the night of the murder, but as with most acts of senseless violence you'll be left shaking your head when it's over, still uncertain why a 28-year-old woman was killed by a friend.