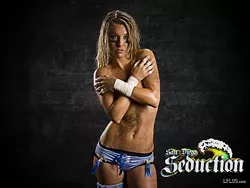 LFLus.com
The Lingerie Football League is all about the football, man.
The Lingerie Football League yesterday announced that St. Louis has been
awarded an expansion team
for the 2013 season. As the name of the league implies, the game is full-contact football played by women wearing lingerie, shoulder pads and helmets. The team, which has no name at the moment, will play home games at the St. Charles Family Arena. Tryouts have yet to be scheduled.
But if you're hankering for some hard-hitting women's football, the
St. Louis Slam
is right smack in the middle of their season.
The Slam play at Oakville High School (5557 Milburn Road, Oakville) as part of the Women's Football Alliance. In this, their tenth season, they're battling through a 2-2 record. The next three games are all at home on successive Saturday nights (June 2, 9 and 16). These women also play full-contact, smash-mouth football, but they wear actual uniforms over their pads. It's a subtle difference from the LFL model, but if you're a fan of the game it won't matter much at all.