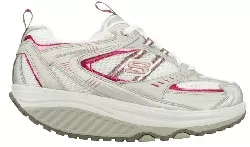 Butt ugly and they won't give you that bubble butt you crave? The horror!
Missouri Attorney General Chris Koster and his counterparts in 43 other states reached a $40-million settlement today with with Skechers USA over how the company marketed its Shape-Ups, Tone-Ups, and the Skechers Resistance Runner athletic shoes.
"We have alleged that Skechers made health-related claims to consumers that they couldn't prove," Koster said in a statement this morning. "Consumers were duped into buying shoes that they thought would help them lose weight and tone up. I am pleased that consumers will be getting back some of their hard-earned money."
Koster and other attorneys general claimed that Skechers could not prove its claims that the company's rocker-bottom shoe products caused consumers to lose weight, burn calories, improve circulation, fight cellulite, and firm, tone or strengthen thigh, buttock, and back muscles. All of which is to say, they won't make your ass look like this woman's -- despite the implied message in Skecher's advertisements.
Consumers who purchased the shoes will be eligible for a partial refund, expected to be about $20 per pair of shoes. Under the settlement, Skechers is prohibited from making health claims unless it has adequate substantiation to do so.
Skechers has not admitted any wrongdoing. And, seriously, are they really to blame? Any athletic shoes -- rocker-bottom, or not -- will help you burn calories, lose weight and improve circulation provided you actually get off your ass and exercise in them!