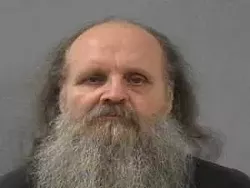 Robert Cummings behaved like an idjit, and now he's going back to jail.
Have you ever wondered what Yosemite Sam would look like in real life today? Wonder no more. Oklahoma native Robert Cummings, 63, is on his way to prison for 40 years because he got shootin' mad at closing time in a Springfield, Missouri, bar in 2005.
Witnesses testified that Cummings became irate when the bartender refused to serve him another beer at closing time. Cummings drew his pistol and shot two customers (what'd they do?), one in the chest and the other in the abdomen. Because that's how you convince a bartender to do anything; shoot the customers and the tips dry up. That actually makes service worse, genius. Both of Cummings' victims survived.
It may surprise you to read this, but this is not the first time a guy who shoots first -- and shoots the wrong people -- has been in trouble with the law. He has a second degree murder conviction under his gun belt in New Mexico. Despite his violent past, he'll be eligible for parole in 16 years because he's an old man.
So he may be irresponsibly violent, but the state owes him a little mercy because he's somehow survived into his 60s despite his dumb behavior. That makes about as much sense as shooting a customer to convince a bartender to do you a favor.