Attorney General Chris Koster released the St. Louis Rams' proposal for bringing the Edward Jones Dome into the "first tier" of NFL stadiums. It's a 39-page document that gets into the nitty-gritty of electrical wiring, media toilets and an innovative roof design that reminds me of the sunroof on the '80s-era
Ford Mustangs
. There's also a glass curtain wall planned for the entire southeastern side of the building. As you can see from the artist's rendering, the Rams way of doing things would completely transform the Dome as we know it.
More images after the jump.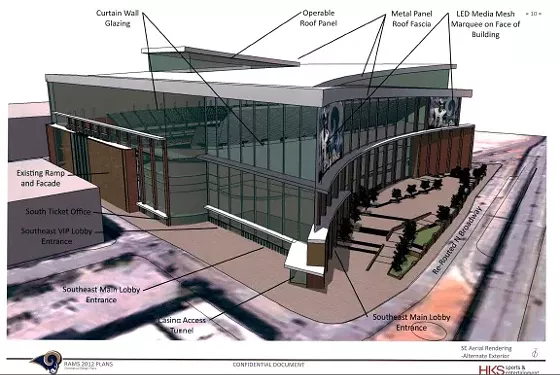 This is a view of the proposed glass curtain wall. That would definitely improve the interior lighting, don't you think?
According to the plan, "the upper bowl North, West and South seating will be retained. The balance of the upper and lower seating bowls will be replaced." The first 14 rows of seats in the new Ed Jones will incorporate a powered telescopic seating system, "comparable in quality to the telescopic seating system at Lucas Oil Stadium in Indianapolis." I don't know what telescopic powered seating is, but it sounds spendy.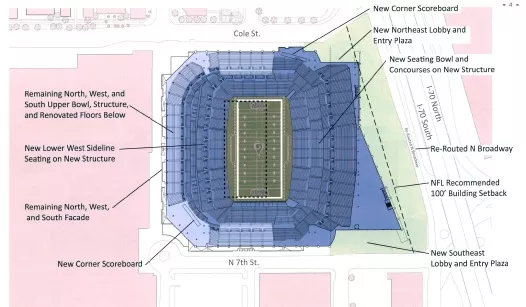 This next image shows the roof. It has a popped up top to increase the ambient light in the building, and this part of the roof will retract to open up the building to the elements.
Last image. This one is a side view that illustrates the new stadium's profile as compared to the Edward Jones Dome we all know. The Rams vision completely engulfs the current building.

Interestingly, there is no price tag included in the plan -- the proposal's cover letter notes that "the plans are also presented in sufficient detail to permit the CVC to price improvements to First Tier Status of the facilities" by the June 1 deadline.
KTVI reports
that the total price could end up in the $700 million range.