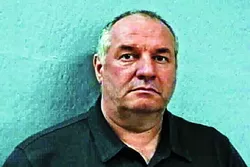 Edward Maher as he appears today, at the age of 56.
English fugitive Edward Maher, 56, has officially been deported from America back to his home country to answer for a heist he allegedly committed 19 years ago. The so-called "
Fast Eddie
" was arrested in rural Nixa, Missouri, where he'd been living for the past four-and-a-half years.
Maher's original crime was the theft of $1.5 million in an armored car robbery in Felixstowe, England; he was working as a security guard for the company transporting the money, and the truck, the money and Maher all disappeared at the same time. For almost two decades, it appeared he'd committed the perfect crime. His daughter-in-law eventually tipped off the Ozark police that John Maher was actually the fugitive Eddie Maher.
The whereabouts of the money have yet to be determined. Maher was supporting himself as a cable TV installer, and he's asked for a court-appointed attorney to handle his American charges (illegal purchase of firearms under a false name). There is no timetable yet for Maher's deportation, which he is not fighting.