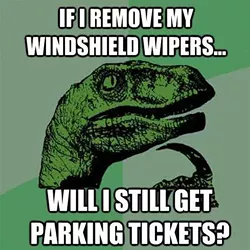 An interesting question...
If you have outstanding parking tickets in the City of St. Louis, for a limited time you can avoid paying the fines and just pay the original amount of the infraction. Your window of opportunity on this deal won't be open long, however -- it begins and expires this weekend at the
Community Needs Expo
at the America's Center (701 Convention Center Plaza).
You'll also have to stand in line for a while, as the city treasurer's office estimates 4,000 people will take advantage of the offer. Once you've queued till you can't queue no more you'll get a voucher that proves you've been officially absolved of all the penalties. That voucher is only available from 9 a.m. to 5 p.m. Friday and from 9 a.m. to 2 p.m. Saturday (May 11 and 12). Once you have that, you have to actually pay your ticket before Sunday, May 13;
go here to do that by phone or online
.