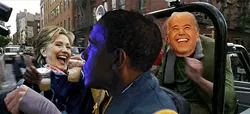 The media is the message.
Well that was fast. President Obama officially came out in support of same-sex marriage today, immediately touching off shouting and gnashing of teeth and cheers and whatnot nationwide. People are gettin' emotional out there.
Almost immediately, Tumblr leaped into the breach with the crowd-sourced site,
When Obama Endorsed Same-Sex Marriage
.
This is now your one-stop source for all positive Facebook reaction posts on the topic until further notice. If I might offer a critique, it needs more Joe Biden. He was first on the record, after all.
In the meantime, congratulations to all my LGBTQ brothers and sisters out there. Missouri still has its hateful
gay marriage ban amendment
, but progress is being made.