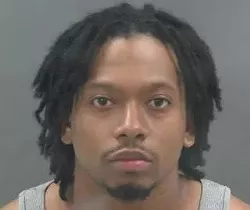 Eric Lawson faces multiple charges.
A Saturday night apartment fire in the 2100 block of South Jefferson Avenue was allegedly set by Eric Lawson, 23, the ex-boyfriend of Breiana Ray, 22. Ray and her mother, Gwendolyn Ray, 50, were found in the burning building by firefighters, dead of gunshot wounds. Breiana Ray's son by Lawson, ten-month-old Aiden, was killed by smoke inhalation. Ray's three-year-old daughter was seriously injured by the fire, and is currently in critical condition at an area hospital.
According to police, Eric Lawson confessed that he killed Breiana and Gwendolyn Ray because he was upset with his former girlfriend. He then allegedly used a lighter to set fire to the apartment and locked the doors on his way out, condemning both children to the flames.
Lawson faces three counts of first degree murder, two counts of first degree arson, two counts of endangering the welfare of a child and five counts of armed criminal action.