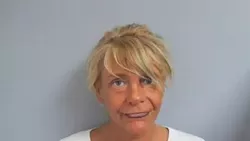 Patricia Krentcil -- just wait, she'll get tanner.
Patricia Krentcil, 44, lives in Nutley, New Jersey, and it's safe to say her favorite thing to do in the whole world is
impersonate 2,000 year old beef jerky
tan. She made the local news because she's accused of taking her six-year-old daughter tanning with her, which is a crime in New Jersey -- kid's gotta be at least 14 in the Dirty Jerz before they can get their full guido on.
Her interview with the Nutley news station WCBS is making the internet rounds because she apparently decided she needed to get a thicker base coat on so she'd look good on TV. The results are NSFW, but only because you're going to scream "What the Fuuuuuuck?!" when you see her. The mug shot does not do her justice.
Behold the star of your next few nightmares.
I swear I can actually
taste
her melanoma through the computer screen.