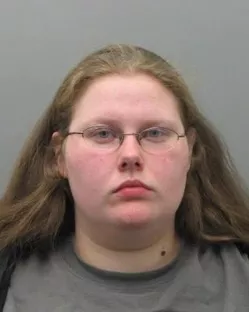 Tessa Vanvlerah, no kind of mother.
Tessa L. Vanvlerah was yesterday sentenced to two consecutive life terms in prison for
prostituting her then-five-month-old daughter
to Kenneth L. Kyle. Kyle would travel to Ballwin from San Francisco to sexually abuse the daughter and produce child pornography, crimes to which
he's already pleaded guilty
and received a 37 year sentence. But don't worry, Vanvlerah also got something out the exchange -- she allowed Kyle to choke her, burn her and urinate on her during their visits.
Surprisingly, Vanvlerah had limits; but what were they?
If you had "bestiality" in the office pool, you are correct. Vanvlerah would allow a man to violate her daughter and make recordings of it, to piss on her and burn her, but wasn't keen on animals being involved. At last we know where she drew the line between acceptable and reprehensible behavior.
Vanvlerah's attorneys argued for probation in this case, based on a claim that she had a psychological condition called dependent-personality disorder. In prison she would be at risk of further bad behavior because she'd fall under the sway of the alpha dog. I'm as stunned as you are.
Vanvlerah's daughter was placed into protective custody in 2010, and has since been adopted by the woman who fostered her.