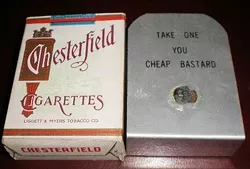 Kiplinger's has declared St. Louis to be the cheapest of the cheap. I feel I should defend our honor, but I
am
wearing a dead man's jacket at the moment, so I'll let it slide with naught but a glower. In compiling its list of the "
10 Best Cities for Cheapskates
," Kiplinger's ranked us tops because this is where
your dollar stretches the furthest
.
The criteria used for determining this top ranking included our average household income of $69,992 (I'm living in the wrong house), the number of libraries and museums in the metro area (144, which seems kinda high) and the total number of Dollar Generals in a 35-mile radius (59). Factor in our population of 2,812,896 and you have your winner...and...oh.
I see what happened. Kiplinger's included St. Louis County in the formula, didn't you? That's gonna skew your numbers, but you know what? We'll take it.
That's right. St. Louis is so cheap, we'll take a cheap win. WE'RE NUMBER 1! WE'RE NUMBER 1!