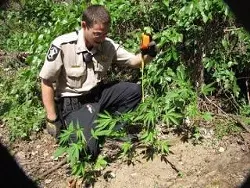 New Madrid County Sheriff's Office
Measuring the evidence.
The New Madrid County Sheriff's Office uncovered a marijuana growing operation in an unusual place -- atop a levee on the Mississippi River. The eighteen-inch-tall plants were found on Saturday by deputies
according to KFVS-TV
, and were transplanted to the location after sprouting somewhere else.
Fifteen plants were found in total, and all of them were confiscated by the authorities. According to the police, they have a couple of people in mind as possible culprits. Most likely gifted gardeners, no doubt.