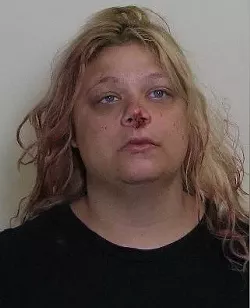 Rebecca Steiner had quite a Thursday afternoon.
Rebecca Lee Steiner, 27, was visiting a friend in the 300 block of Broad View Drive in Edwardsville, Illinois on April 26 when she decided to pop in on the friend's next door neighbor. That call was of a decidedly less social nature -- according to the incident report, Steiner allegedly physically assaulted the neighbor.
Madison County Sheriff's Office deputies arrived to break it up, but Steiner wasn't through yet. She "actively resisted arrest" according to the deputies, and was quite combative. While being subdued by the police, Steiner then spit blood and bodily fluids on one of the arresting officers, which qualifies her for a charge of aggravated battery. She also has pending charges of disturbing the peace and resisting arrest, which add up to a $30,000 bond.
That's quite a tab for a Thursday afternoon social engagement.