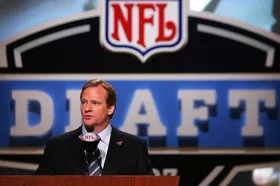 Roger Goodell, hoping like crazy he doesn't get booed again this year the way he did last year.
The
NFL Draft
is tonight, coming to you live from
New York City
. This promises to be one of the least interesting drafts in recent memory, at least at the very top; there is literally no doubt in anyone's minds about who the first two picks will be.
The Indianapolis Colts will begin their rebuilding process by taking Andrew Luck, the Stanford quarterback who is already being called the Next, um, well, the guy who used to be there in Indy. The Washington Redskins handed the Rams a king's ransom for their second overall pick to take Robert Griffin III, the Baylor QB who I personally think will end up better than Luck in the long run. No muss, no fuss, no surprises. Not much to really talk about, either.
After those two, though, things start to actually get a little interesting. You do actually have some debate about where the teams from number three on will go with their picks. The Rams go on the clock at six, making the first draft pick of the Jeff Fisher era. I haven't written really anything about the Rams' draft this year -- or the Rams period, for that matter -- for quite awhile now; there is a very successful and non-dysfunctional hockey team with a coach I do not despise playing just down the street who have been much more interesting and enjoyable to cover. However, now that the draft is here, I find myself being drawn back in to the world of football, somewhat against my will.
There is a group of players in this draft, six to be exact, that virtually everyone who covers the draft in any way, shape, or form agrees are the elite. Those six are head and shoulders above the rest of the pack, to the point there is really very little point in considering any other players until all six are off the board.
The Rams, picking at six, will get one of those elite players. Which one remains to be seen; the good news is the abject awfulness of this team means they have a need at pretty much every position where there is an elite talent available. We know both of the quarterbacks will be off the board; that essentially means there are really only four options for the Rams at number six. Regardless of which of them is still on the board, you would have to believe the Rams would then select that player.
The really nice thing about such a situation is that it makes my job pretty easy. I can tell you what you need to know about nearly every player the Rams could conceivably draft by covering just four names.
And so, without further ado, here are the players who will likely be options for the Rams tonight when they go on the clock. In no particular order:
Trent Richardson, RB, Alabama
Richardson is the name right now on most people's lips. He's considered to be the best running back prospect to come out of college since Adrian Peterson left Oklahoma for the Vikings. He's coming off a monster season at Alabama, along with a performance in the National Championship game against LSU that cemented the perception of him as a franchise-changing player.
Richardson is a very intriguing, very exciting player, combining the best attributes of a big, physical power type back with enough multidimensionality to make him an all-around threat as well. He can really do pretty much whatever you might need him to do on the football field. With Steven Jackson approaching the end of his career, plenty of local media types are heavy on the Richardson bandwagon, seeing a replacement and future franchise cornerstone.
Personally, while I think Trent Richardson is a very special player, and has the potential to make a real impact at the NFL level, I honestly don't know it I would take him if I were the Rams, even if he were still on the board. The problem isn't Richardson; the problem is that RB next to his name. He's going to be a very good running back, but I would honestly never spend this high a draft pick on a running back. Ever. For one thing, the modern NFL is not a running back league any more; the value of that position is very, very low. For another, the attrition rate of running backs is off the charts; there's a pretty good chance any guy you take to carry the ball is going to get hurt and be out of the game within five years. Third, scheme and an offensive line can turn pretty much any running back into a productive player.
For me, the running back position simple doesn't carry enough value to warrant a top ten draft pick. Pretty much ever. I was listening to 101 ESPN the other day, what show I don't recall (I think it was the Fast Lane in the afternoon, but I wouldn't swear to it), and the hosts of the show were going back and forth on potential draft picks. The essentially all came to the agreement that Richardson would be an outstanding pick considering all he brings to the table.
The money quote, for me, was something along the lines of this: "After all, it worked out pretty darned well the last time the Rams took a running back in the first round."
I nearly called in when I heard that, because I could not disagree more. Yes, Steven Jackson has been a great player for the Rams. However, since he was drafted in 2004, how well have the Rams actually done? Frankly, they've been terrible. And while I'm not trying to lay that at the feet of Jackson, it supports my point: you can have one of the best running backs in the league -- and the Rams have for pretty much the entirety of Jackson's career -- and his actual impact on your won/loss record is going to be very, very minimal. I just don't think you can extract enough value from a running back to justify a pick this high.
That being said, if Richardson is by chance still sitting there at six -- most mocks have him going to the Cleveland Browns at four -- then I think they take him. Jeff Fisher loves his running game, and Richardson would certainly be a good fit there. I just don't think he brings you all that many wins.
Morris Claiborne, CB, Louisiana State
It used to be a truism in the NFL that corners did not go high in the draft. It just wasn't done. You saw quarterbacks, running backs, sometimes linemen of one stripe or the other, things like that. But not corners.
Well, that's not true anymore. In this new NFL, just as the running back has seen his value largely eroded by new offensive schemes, corners have become more and more important in attempting to control the high-flying aerial attacks so common in the league today. Patrick Peterson went 5th overall to the Arizona Cardinals last year, and there were those who thought he really deserved to be selected even higher than that. Corners are a huge deal nowadays.
Enter Claiborne, who follows in Peterson's footsteps as an LSU cornerback coming into the draft number one at his position. He brings top-flight cover skills to the position, as well as the athleticism to make the occasional game-changer. He has the speed and size to smother receivers, and is perfectly suited to a team playing man to man on the outside.
Which is why the reports coming out recently that the Minnesota Vikings are looking at Claiborne at three are kind of puzzling to me, honestly. Claiborne is a fantastic cover corner, but the Vikings play a Cover-2 zone defense that really doesn't need elite cornerbacks. They would be wasting him in such a scheme. It looks to me more like a smokescreen to try and drum up trade interest. But, I could be wrong.
If Claiborne were to be there at six for the Rams, I think they would almost have to take him. Fisher and Co. brought in Cortland Finnegan over the offseason to shore up the desperately thin cornerback situation, but bringing in a stud like Claiborne would immediately give the Rams one of the most frightening pass defense in the game. And with the uncertainty surrounding all the injured players the Rams have on the outside, they can't afford to wait and hope things break their way.
Matt Kalil, OT, USC
For my money, Matt Kalil is the best non-quarterback player in the draft this year. Honestly, he would be my dream scenario at six for the Rams, but I don't see any way he gets there.
Kalil offers pretty much everything you could want out of an NFL left tackle. He has elite size, remarkable quickness, and the feet of a dancer. He moves laterally as well as any tackle I've seen in college in a very long time, and wraps up defenders beautifully in protecting his quarterback. Protection for Sam Bradford was one of the Rams' biggest issues last season, as Jason Smith pretty much proved he will never stay on the field for a full NFL season and Rodger Saffold regressed in his sophomore campaign. Drafting Khalil and moving Saffold back over to his more natural right tackle position would go a long way toward keeping Bradford upright and ambulatory this year.
However, I'm not entirely sure the Rams would view Khalil the same way I do. Completely aside from the questions about him -- he could stand to add some bulk, as there are those who worry about his functional strength -- the fact is, Jeff Fisher doesn't select offensive linemen in the first round. He prefers to go the coach 'em up route, and for the most part has been pretty successful with that approach in the past. I would look at Khalil and see the chance for an anchor, a player to protect your biggest investment's back for the next 5-10 years, but I don't know if the Rams' coaching staff would see the same thing.
It's probably a moot point anyway, honestly. I have to believe Khalil is the pick of the Vikings at three, no matter what disinformation they may be trying to spread.
Justin Blackmon, WR, Oklahoma State
And now we come to what would seem like the most obvious fit, and probably is. The Rams' wide receiver corps was just brutal last season, and still mostly is. (I have more faith in Austin Pettis and Greg Salas than most seem to, not to mentions Danario Alexander, but even so the Rams need more talent at the position.) Blackmon has been the most productive receiver in college football the last two seasons, and should continue to produce at a solid level in the NFL.
There are questions about Blackmon, of course; his numbers were inflated by the video game system Oklahoma State runs and his pure downfield speed is something short of elite. Even so, he has a gift for getting open and excellent hands that should allow him to make plays week in and week out. I'm not sure he's a true number one receiver in terms of being an elite, all-over threat like a Calvin Johnson or Larry Fitzgerald type, but I've heard the comparison made between Blackmon and Anquan Boldin, and I think that's a very apt one. Maybe not a true top-flight receiver, but a guy who is going to haul in a lot of passes for your team for quite a while.
Of these four, I expect Blackmon to still be on the board at six, and I fully expect the Rams to take him. They desperately need to come up with some usable weapons for Sam Bradford, and Justin Blackmon certainly represents a potentially plus target. I don't know if he would be my first pick if I could have anyone in the draft, but I have a feeling he's going to be the guy sitting there offering the best value and fit for the Rams.
By the end of the night, I think Justin Blackmon is a St. Louis Ram. There are other ways things could go, of course, but I just don't really see the Rams going off this board of four players for their pick at six. There is a very clear line of demarcation in the talent this year, and it comes between the sixth and seventh picks. Being on the right side of that line almost assures the Rams of coming away with an elite talent. It would surprise me greatly if they went in some other direction.
It's an important night for the Rams tonight. The Jeff Fisher era is about to begin in earnest, when he chooses how to best put his stamp on the franchise. Missing on this pick could set the team back another god knows how many years, though the bounty they extracted from the Redskins for RG3 should help to avoid that. Still, Fisher and Co. need a win here. It's been an ugly offseason for the Rams, even though they've avoided most of the attention because the New Orleans Saints apparently conducted themselves like the mafia over the past five years or so. But when your defensive coordinator is on indefinite suspension and the most common reference you hear to the Rams these days is speculation on how soon they'll be moving back to Los Angeles, you need a win.
Let's hope the Rams get one tonight.