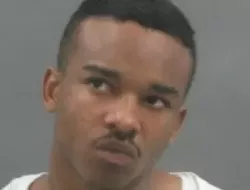 Kenneth L. Rodgers' mug shot.
Kenneth L. Rodgers, 21, has been charged with first degree involuntary manslaughter for his role in a high-speed chase that ended in a collision with a Metro Call-A-Ride bus and the death of his two passengers.
Prosecutors allege that Rodgers was driving the Pontiac Grand Prix that raced through a red light at Natural Bridge Avenue and North Grand Avenue on February 18,
smashing into the Metro vehicle
before the Grand Prix was itself hit by a Volvo. The driver of that car, a 51-year-old woman, was seriously injured. Morion Robinson, a passenger in Rodger's car, died that same night in the hospital. The other person in his car, Daionsha Scott, lingered another 24 hours and then passed away.
Tests showed that Rodgers had enough THC in his system to be legally impaired at the time of the crash. His alleged impaired state and the death of his friends earned him two further charges of Second Degree Assault , Driving While Intoxicating Resulting in Injury.
Rodger has some other, non-related legal trouble in his future as well. After being arrested for the accident, he was charged with Second Degree Murder in the 2011 death of Bryan Neal.