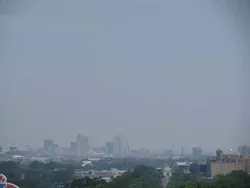 Ah, another beautiful St. Louis summer day.
The American Lung Association released its State of the Air report, and St. Louis once again ranked in the top ten for year-round particle pollution, coming in as the tenth most-polluted city out of the 277 metropolitan areas measured -- that's not good. However, the
data shows
that since 2003-2005 report, the average annual particle pollution for the region has been steadily declining. In fact, we received a passing grade for that measurement.
You know there's a "but" coming.
But as anyone who's ever been outside on one of our hazy July days can tell you, there are those times when our pollution problem is right before your eyes. The metro area
received a C grade
in both our number of high ozone days and in our number of problem 24-hour particle pollution periods.
For real-time tracking of our air quality, you can't do much better than the
St. Louis Visual Air Pollution Camera
, the Missouri Department of Natural Resources website that shows you exactly where we stand each day. If you're interested in comparative air quality measurement, check out the
Midwest Haze Cam
, which tracks particle pollution and ozone levels in St. Louis, Chicago, St. Paul and Cincinnati, among others.