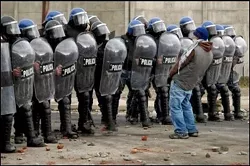 This guy's also probably still in jail.
Robert Mitchell Jr, 47, had a good time Saturday night -- maybe too good of a time. Not long after midnight he showed up at the Belleville Police Department, "ranting about various topics" to the desk sergeant, according to the police report.
The desk sergeant noticed that Mitchell was "highly intoxicated," and did him a favor by telling him to go home before he got into trouble. Sound advice, and also prescient -- which is exactly the sort of advice you ignore when you're crocked.
Mitchell left the building but only got as far as the back parking lot, where he relieved himself on an officer's car. Mitchell was taken into custody and held, the police report notes, "pending bond and sobriety." I'm guessing the latter arrived right before regret.