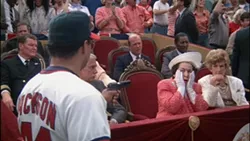 Don't worry, that's a fake Queen of England.
The World Series Trophy traditionally goes on tour after the winning team spends some time hoisting it overhead, visiting locations across the country and spreading good will towards the game. It's currently touring the Cards' minor league affiliates. The trophy spent this past weekend with the Springfield (Missouri) Cardinals, where it was nearly assassinated during a game. No, not by Reggie Jackson -- it was an unidentified Springfield player this time.
That's Springfield Cardinals GM Matt Gifford with the sharp reflexes there ducking out of the way and preserving the trophy. Good hustle, Gifford.