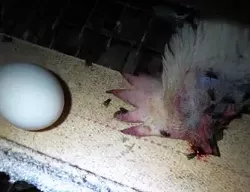 A scene from a 2010 undercover video that helped spawn Iowa's bill, and subsequently, Missouri's.
The Missouri House of Representatives yesterday passed a bill designed to thwart undercover investigations into big agriculture.
The legislation (
HB 1860
) mirrors a similar bill signed into law this year in Iowa and creates the crime of "Agricultural Production Facility Fraud" for anyone who obtains access to a farm or animal processing center by "false pretenses...with the intent to commit an act not authorized by the owner."
Legislators in Iowa first considered an "Ag Gag" bill last year following the release of disturbing videos (see below) exposing conditions inside factory farms in Iowa and elsewhere in the United States. The
original Iowa bill
specifically would have criminalized undercover videotaping inside agricultural facilities, but the legislation was altered when Iowa's attorney general questioned its First Amendment restrictions. Instead Iowa lawmakers sought a work-around, making it a crime for people to misrepresent themselves into order to gain employment in the agricultural industry.
Missouri's bill sponsored by Casey Guernsey (R-Bethany), himself a cattle farmer, goes beyond the Iowa bill to include a provision aimed to stop image or sound recordings inside farms. The so-called crime of "Agricultural Production Facility Interference" makes it illegal to produce or distribute a record of an image or sound occurring at an operation without the consent of the owner of the facility. Violators could be subject to six months to four years in prison.
The
Springfield News-Leader quoted Guernsey this week
saying that he knows of no surreptitious filming that has occurred on Missouri farms but said the law is needed to "protect an industry that drives the economy in this state." He added that the bill would not penalize whistle blowers who are legitimately employed by an agricultural business.
But that doesn't hold with groups like the Humane Society of the United States that say their investigations are often prompted by employees.
"These are people who fear retaliation or the loss of their job should they make their concerns public," Matt Dominguez, a spokesman for HSUS tells Daily
RFT
. "What's interesting with the Missouri bill -- and similar ones being considered in other states -- is that it singles out agriculture. Other industries don't need these kinds of protections. So, the question becomes, 'What do these industrial farms have to hide?'"
At least four other states are currently considering "Ag Gag" bills. Similar bills were introduced but failed to become law in Indiana, Florida and Illinois. The Missouri bill now moves onto the Senate.
Dominguez says secret recordings are necessary to inform the general population of the way their meat, eggs and dairy are produced. "When these videos are released, there's a huge outcry from the public. They don't like the way these animals are treated and they're concerned about food safety. And what is big-agriculture's response? Laws like these intended to create a chilling effect."
In 2010, the Humane Society of the United States released the following video of conditions said to be taped inside an egg-laying facility at Iowa's own
Rembrandt Foods
.
And this spring
Compassion Over Killing
released this video taped inside a corporate hog farm in Iowa.
For more on the debate over factory farming vs. animal welfare, check out
Riverfront Times'
award-winning feature story,
Down on the Farm
.