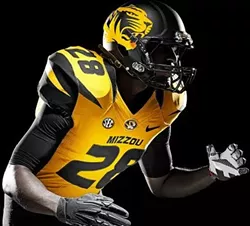 mutigers.com
One of Mizzou's two new helmets features a large tiger emblem.
University of Missouri unveiled new uniforms for its athletic teams Saturday, including the
much-anticipated redesign
of the school's football helmet that has featured the iconic "M" for four decades. The new outfits -- courtesy of a collaboration with Nike -- now highlight the team's tiger mascot.
And one of the two new designs for the football helmet (right) looks a lot like a mock up that graphic artist (and huge Mizzou fan) Aaron Lademann put up on
his website earlier this year
. So, what does Lademann have to say about the football Tigers' new gear?
"I think the new uniforms look really good," Lademann tells Daily
RFT
this morning. "The consistency of the gold color is a huge step forward, and something that has always bothered many Mizzou faithful when the "yellow" didn't seem to match the gold."
One of Lademann's designs that attracted the attention of Mizzou.
Okay, but what about the possibility that Mizzou and Nike may have borrowed his idea for a football helmet? (Don Barnes, Mizzou's equipment manager for the football team
contacted Lademann this winter
after viewing his helmet designs online.)
"Don Barnes deserves a lot of credit for the job he did working with Nike to update our brand," says Lademann. "While one of the helmets does look a lot like some of the concepts I created, there is simply no way to say whether or not the Nike design team was already headed down that path creatively before I made what I did. I think their design team did a phenomenal job with the entire identity -- and the helmet is such a small part of that -- so truly they are the ones that deserve the credit, not me."
The other helmet unveiled this weekend features the tiger logo in an oval (below) and will be the main hardhat the team uses this upcoming season.