Photo by Nicholas Phillips
Some 500 booths were being set up today for the NRA conference
Whoowee! The America Center was all a-bustle yesterday with fork lifts bleeping, booths erecting, gun-lovers registering, and Daily
RFT
trying not to have an over-stimulated panic attack.
Today begins the 2012 NRA Annual Meeting & Exhibits; last time this happened in St. Louis, more then 64,000 people showed up. Organizers are expecting 70,000+ this year, not to mention some
GOP heavyweights (e.g., Mitt Romney) who will speechify tomorrow afternoon
.
But perhaps the real stars of the show will be the firearms themselves! Got a weak spot for over-the-top assault rifles?
NEMO
,
Nemesis
or
POF-USA
will tempt you. Handguns? Try
Glock
or
Smith & Wesson
. What about shotguns? Make yourself comfortable at
Bennelli
or
Beretta
.
Yeah. There's gonna be guns.
But that's not all. This NRA shindig has more than
500 booths spread across 340,000 square feet
. Here's our mini-preview of some off-the-beaten-track vendors:
OFFBEAT WEAPONS
Cold Steel
-- Zealous hawkers of swords, spears, blowguns, machetes and tomahawks; the
video demos
will cleave your brain.
Ka-Bar Knives
-- Their slogan is "Hardcore lives. Hardcore knives." It's gonna be hardcore, you guys.
Mil-Tac Knives
-- They offer "Urban Survival Kits," which rest assured will go fast at this conference if/when downtown runs out of Coffee-mate.
PS Products
-- Get your stun guns and pepper spray! (Think: Stocking stuffers.)
Pyramid Air
-- World's largest retailer of paintball guns. Yes you CAN afford it because you're living with your parents.
SABRE
-- Their pepper spray has been "Making Grown Men Cry Since 1975." Cubs fans can relate.
OFFBEAT ACCESSORIES
Andrew's Custom Leather
-- They boast that one of their holsters was worn by
Sasha Baron Coen
in "The Dictator" (not yet released).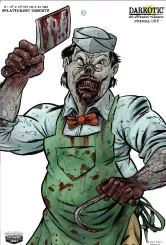 One of Birchwood Casey's "Darkotic" zombie targets
Birchwood Casey
-- They sell "splattering" targets that all you to shoot at zombies and human-eating beasts. (See right)
CCW Breakaways
-- They make clothing-concealed holsters, like DeNiro used in "Taxi Driver," only these are pleated khakis.
Conceal City
-- Their "pager" holsters may conceal your gun, but will never conceal the fact that you look like you are
still wearing a pager
.
FOR YOUR FEMININE/CRAFTSY SIDE
Packing In Pink
-- This company offers girly firearm-related accessories. Their philosophy: "Just because I shoot like a man doesn't mean I have to look like one." Agreed.
The Buffalo Wool Company
-- They use real bison wool to make hats and scarves and stuff.
African Elephant Hair Bracelets -- These are made with fake elephant hair, FYI.
Bond Arms
-- They make really small guns; some are pink, for girl protection! Others are apparently used to shoot snakes.
For pistol-packin' madames