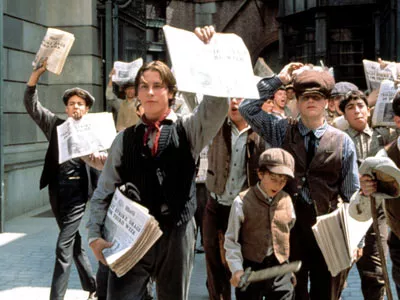 Newsies, get it? Eh, it'll all make sense after the jump.
Matt Wirz of the
Wall Street Journal
reports that famed investor Warren Buffett, "the Oracle of Omaha," has purchased
$85 million of Lee Enterprise's debt
through his Berkshire Hathaway investment company. The purchase translates to a four percent ownership of the company, which itself owns the
Post-Dispatch
among other publications.
It's not Buffett's first venture into the newspaper biz, by any means.
Berkshire Hathaway owns a stake in the Washington Post Co, the Buffalo News and Buffett's own hometown paper, the Omaha World-Herald Co. In his teenage years Buffet was a paper boy, so his newsie roots run deep. Behold.
Interestingly, Buffett earns less in salary (
$100,000
) than Lee Enterprises CEO Mary Junck
earned in bonus money this year
($500,000) for guiding the company out of bankruptcy. That should make for some interesting conversation at the next stockholders meeting.