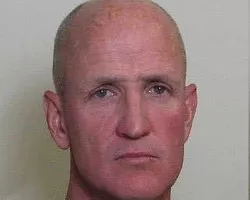 Michael R. Collins, former Edwardsville Police Officer.
Senior Patrol Officer Michael Collins resigned from the Edwardsville Police effective Tuesday, April 10, just days after being charged with surreptitiously
photographing women at a tanning salon
. Collins had been on paid suspension since the charges were filed and leaves the force after fifteen years of service, several of them spent as the D.A.R.E. officer in the Edwardsville school district.
And yes, he will retain his police pension even if convicted.
According to Edwardsville
city attorney Jeff Berkbigler,
"The only way he would lose his pension is if he was convicted of a felony committed in relation to his duties as a police officer."

Collins was off-duty when he visited the Image Sun Tanning Center in Glen Carbon, Illinois, and allegedly held his cell phone over a dividing wall to photograph a young woman on the other side who was about to tan. He has been charged with three counts of unauthorized video recording, a class four misdemeanor.