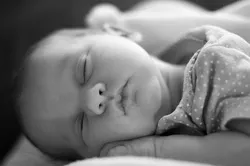 Fewer teen births means everyone sleeps a little easier.
The St. Louis Department of Health is proudly touting its steady decrease in teen pregnancies, a trend that mirrors the national decrease in teen pregnancies since 1991. In fact, the national rate of teen pregnancies dropped 44 percent in the past 20 years. Locally, that drop reflects a change from 132.0 births per 1,000 city girls ages 15 to 19 in 1991 to just 66.2 births per 1,000 girls in 2009 (the latest year with confirmed data). The Department of Health credits its strategic outreach programs and partnerships with community groups for the decrease.
The National Center for Health Statistics compiled the data for this report, and a look at the
group's page on teen pregnancy in America
reveals some fascinating points on the topic, if you're into stat crunching and graph analysis.
For example,the total number of babies born to teens in 2010 was the lowest since 1991, it's the lowest it's been since the mid-1940s. The peak year for teen births was 1957, right at the onset of the baby boom. So much for the argument that "things were better in the old days." There was another spike in 1970, which can probably be pinned on the Summer of Love, but the NCHS report does not make that leap.
Additionally, the Midwest is right in the middle of the country statistically when it comes to teen pregnancy. The national rate is 34.3, and Missouri is just a touch higher than that at 37.1. That rate is is lowest in the Northeast (a tiny 15.7 births per 1,000 teen girls in New Hampshire) and highest in the South (55.0 per 1,000 for Mississippi).