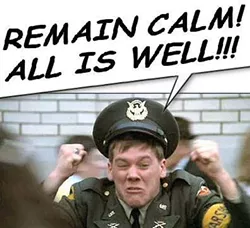 Kevin Bacon knows what's up.
[
Update, Monday, April 9
: Cleanup crews finished removing all the potentially dangerous debris from the one-block area surrounding the pipe rupture on Sunday. Test results that prove the area is free of asbestos contamination are not yet back, and Trigen-St. Louis Energy, the company that maintains the steam pipe, has not yet been cleared to examine the rupture site to determine what happened. Original post follows.
]
The area immediately surrounding Thursday morning's steam pipe rupture at 11th Street and Convention Center Plaza has been examined by a licensed industrial hygienic team, and the results are in. According to a press release issued by the City of St. Louis Department of Health, air quality tests are clean while ground swabs indicated small amounts of asbestos.

Health risks are minimal, but City Health Director Pam Walker has recommended the following precautions for residents of Lucas Avenue between 11th Street and Tucker Boulevard while the cleanup continues. Better too safe than very sorry.


-- If you live in the designated area, keep your windows closed.
-- Stay off your balconies until cleanup is completed.
-- Cooperate with Trigen and its contractors during this process.
Residents with concerns or questions are directed to call Trigen directly at 314-486-6617. If you're not a resident but you're planning to head downtown this weekend, be aware that parking will be restricted along Lucas Avenue in the affected area.