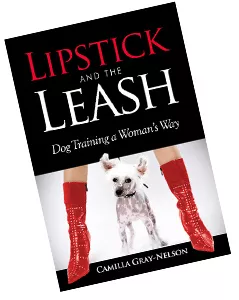 "Most humans, even humans who have pets, don't understand dogs -- or animals in general," asserts Camilla Gray-Nelson. "They don't have a clue what makes them tick."
After a lifetime of living with animals -- she grew up on a farm in Petaluma, California -- and 24 years as a dog trainer known as the Dog Talk Diva, Gray-Nelson knows a few more things than the average human. She got tired of repeating them over and over to the female clients who came in complaining that the dogs only minded their husbands, so she wrote her first book, Lipstick and the Leash: Dog Training A Woman's Way.
The title's not entirely accurate. Animals see relationships in terms of power and hierarchies, Gray-Nelson explains. "If you want your dog to mind you, it's not about training. Why does the dog come to you? It's not because you love and feed him. Loving and feeding do not equal superiority. Superiority means that I make the rules and enforce them.
"But in our culture," she continues, "women are taught to give, to accommodate. With an animal, that comes back to bite you in the behind."
Yesterday Gray-Nelson stopped by the RFT offices to demonstrate her version of dog whispering. We provided the dog, a two-and-a-half-year-old lab mix named Abby.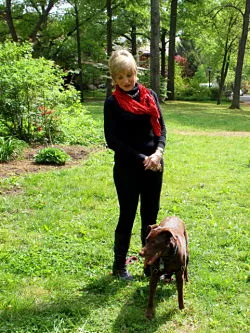 Gray-Nelson begins by standing on Abby's leash to keep her from wandering around the park.
"The top dog is the dog who can limit the freedom of any dog in the group," she says. "Freedom equals status. Once you start limiting a dog's freedom, you have a whole new dog. There's no chaos. Dogs want to know two things: Who's driving and what's my seat assignment."
Upon being informed that Abby is a jumper, Gray-Nelson notes, "Jumping is a multifaceted behavior. It can be a greeting, it can be playful and it can be a ranking ritual. One dog jumping on another is a display of power. When a dog wants to show another dog that it's not superior, it gives a little bark, to say 'I don't allow that.' When I do that with a dog, I want to say, 'I don't allow that, darling.' I want to stay in a loving frame of mind, not punitive. You don't want your dog to think you're angry, just pragmatic."
Gray-Nelson doesn't bark, or yell, but she gets the same effect with this: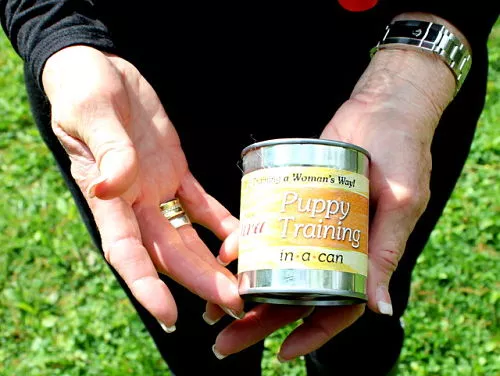 You can make your own by putting pennies in a can and taping it shut.
Abby won't jump on command, but when she starts to sneak off to investigate Gray-Nelson's bag, Gray-Nelson gives a sharp tug of the leash...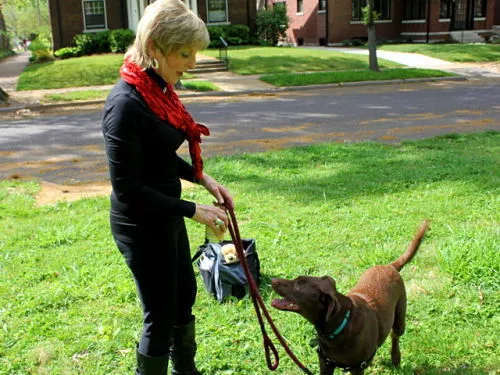 ...and "barks" by shaking the can.
Always reward good behavior, Gray-Nelson warns. Dogs don't like the bait-and-switch.Gray-Nelson's instructions for the "come" command sound a little bit like dating advice: "The result has to be fun. Dogs only do things they enjoy. They're not like Marines storming a beach under fire. The average woman tends to get crabby. The dog says, 'That's not fun. So why would I want to come to you?'"
Fun for Abby is a hit off of this liquid treat stick-thingy that tastes like liver.
Gray-Nelson holds the stick in her hands, and then "I make my voice sound like a great big party" and calls Abby to come. It's just like TV!
Gray-Nelson's next trick is getting Abby to come when someone else is holding the meat stick. She takes a 25-foot cord, attaches one end to Abby's collar, ties the other around her waist, hands off the meat stick and calls for Abby.
At first Abby hesitates, but a tug on the cord proves persuasive.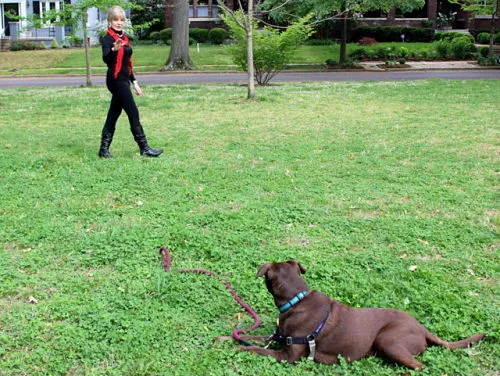 A few more bits of advice:
"I always maintain eye contact," says Gray-Nelson. "My posture says 'I mean that.'"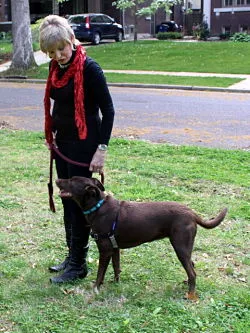 On walks, the human should always take the lead. It's another sign of superiority. "Walking ahead is like the executive office," Gray-Nelson says. "If the dog puts one toenail in my office, I physically move them back." She notes that mother dogs routinely shove their young.
Gray-Nelson wasn't terribly fond of Abby's harness. She prefers training collars that mimic mother-dog teeth.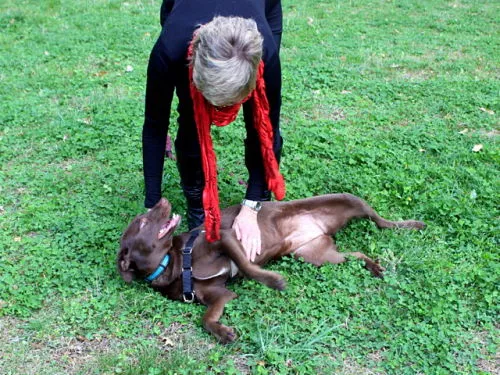 Gray-Nelson says never to underestimate the power of praise and rewards. Or the powerful effects of training.

"Whenever I have a party," she says as she walks Abby back to the office, "I put my dogs through a ten-minute training session and they're wiped out. It's better than a five-mile run. This one is going to be so well-behaved for the rest of the afternoon."