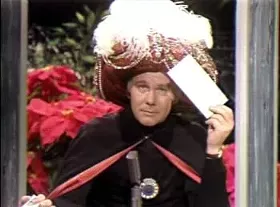 You know, as a semi-professional sportswriter there are a few things toward which I am genetically predisposed. (Why semi-professional? Because I do get paid, but my talent and behavior are both, well, somewhat short of what is usually termed professionalism.) I love to hear myself talk, for one thing. I love it when people tell me how smart I am, for another.
But best of all is when I can combine those two things; when I can find some way of just bullshitting my way through something, yapping merrily about whatever the hell I feel like, and then have someone tell me how smart I am for the line of crap I just sold them. It's...it's heavenly, really.
And you know what? There is no single greater opportunity to experience that wonderfulness than when it comes time to make predictions. Predictions about anything, really; winners of games, losers of games, scores, how many jellybeans are in that jar over there, what color underwear Danielle in accounting is wearing today, whatever. Predictions are awesome, because you just make up a bunch of stuff and then chuck it out there for everyone to see as if they care.
The baseball season is nearly upon us. It's time for some predictions.
I'm so excited.
Today I'm going to do all my predictions for the individual postseason awards; I'll be back tomorrow with team predictions.
Before I begin, though, I would like to point out to everyone out there that wagering of any sort based on my predictions is, in fact, prohibited by the federal government on the basis they're so accurate as to constitute a violation of the laws governing both games of chance and the time-space continuum. Ergo, please do not immediately run off to Vegas and plunk down all your money on the teams and players I predict. Sure, you would make a killing, but the consequences could be disastrous.
That being said, betting the opposite of everything I say might actually be the smarter play. I'm terrible at this.
National League
Most Valuable Player -- Matt Holliday, St. Louis Cardinals
If Holliday can stay healthy this season, I think he's primed for an absolutely monstrous year. Albert Who?
Cy Young Award -- Roy Halladay, Philadelphia Phillies
I know; not really going out on a limb with this one, am I? But, Roy Halladay is still the best pitcher in baseball, at least for a little longer, and I'm betting on him. I did consider both the Brewers' stud pitchers (Greinke and Gallardo), but Halladay won me over in the end.
Rookie of the Year -- Devin Mesoraco, Cincinnati Reds
Comeback Player of the Year -- Johan Santana, New York Mets
This award really came down to two pitchers coming back from injury: Santana and Adam Wainwright. I think both have big seasons, and the voters go with the guy who has missed more time in Santana.
Manager of the Year -- Mike Matheny, St. Louis Cardinals
I'm not really sure Matheny is actually going to be the best choice for this award, to be completely honest with you. But I do think the Cardinals are going to have a very good season and make the playoffs, and I think the narrative of Matheny guiding the team to the postseason without Albert Pujols and trying to take over for a surefire Hall of Fame manager is going to be too compelling to resist.
American League
Most Valuable Player -- Adrian Gonzalez, Boston Red Sox
I predicted this one last year, and despite a brilliant season from Gonzalez it didn't happen. So I'm going back to the same well again hoping to find water this time.
Cy Young Award -- Dan Haren, Los Angeles Angels
That's right, there will be a postseason award awarded to an Angel, and it will not be Albert Pujols. Haren has long been one of those pitchers who occasionally gets mentioned as a dark horse Cy Young candidate, but every year someone else claims the prize. I think this is the season he puts together all the best parts of what he can do and brings home the award.
Rookie of the Year -- Matt Moore, Tampa Bay Rays
This was, to be honest, the single most interesting award on this list. I considered Yu Darvish, the Japanese phenom who came over to the Texas Rangers this year. I considered Yoenis Cespedes, the Cuban defector with the awesome workout video. But in the end, I'm not sure Darvish is going to be quite the force some believe he will be -- at least not at first -- and I think Cespedes may need some adjustment time before he's ready to put up on-base numbers commensurate with his physical talents. Moore, on the other hand, looked ready to not just pitch in the big leagues but dominate in his brief time in the majors last season, and I think he's the man to beat for this award.
Manager of the Year -- Ned Yost, Kansas City Royals
This is the year the Kansas City Royals' fortunes start to change. They've built themselves a farm system capable of supporting a contending team; now it's just a matter of waiting for the fruit of said farm to turn things around. This is the year the Royals contend, though I don't think they have enough to take the division from the rather loaded Detroit Tigers. Still, Kansas City is still in the playoff picture in early September, and Yost wins the award for shepherding his young team back into respectability.
Those are my award picks. Blast away, folks.