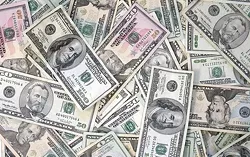 Artist's conception of Frank McCourt's new money blanket.
Apparently, the speed of business is very fast indeed when $2 billion is on the table. That's the record-breaking price offered to current Los Angeles Dodgers owner Frank McCourt by the investment group helmed by Magic Johnson and Stan Kasten. McCourt agreed to the sale mere hours after Major League Baseball approved the three final bidders for the team, one of whom was Stan Kroenke.
With Kroenke not the the proud new owner of a Los Angeles-based baseball team, a lot of pressure is off Rams fans -- except for the Gregg Williams stuff, and the stadium negotiations, of course. You know, small stuff.
As for the sale of the Dodgers, $2 billion seems like an awful lot of money for a team that hasn't won anything since 1988. Although some fool paid $845 million for the Cubs --
the Cubs
-- so maybe this deal ain't as bad as it looks. The Dodgers have a very large television rights contract looming in the near future, which will help pay down the debt.
Maybe my favorite part of this entire deal is Dodgers general manager Ned Colletti's assessment of Stan Kasten:
"He's very successful, very driven, relentless in his pursuit of excellence. He's seen a lot and he's won a lot."

Kasten was previously president of the Atlanta Braves from 1986 to 2003, when the team won many regular season games but became the poster children for playoff flameouts. They did get that one World Series in there, so there's a modicum of truth to Colletti's "won a lot" assertion; or there would be if you're willing to dismiss Colletti's concurrent presidency of the Atlanta Hawks, a team that was relentlessly terrible; his presidency of the Atlanta Thrashers, a team so consistently bad they were sold, moved to Canada and renamed to protect the guilty parties; and his 2006-2010 run as president of the Washington Nationals, a putative baseball team that's most popular player is "racing president" Teddy Roosevelt.
It suddenly becomes clear why he thought $2 billion was the right price for the Dodgers.