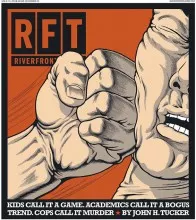 Timothy Lane
Police say Pete Kruchowski is not a victim of the knockout game.
Last Wednesday night, Pete Kruchowski -- known as Li'l Pete to many St. Louisans in the film and music community -- was found unconscious next to his undamaged bicycle near Tower Grove Park. His wallet and cell phone were still with him, and Kruchowski has skull fractures, broken bones and a punctured lung, which fueled suspicion that he was the latest victim of
the knockout game
.
Today, St. Louis Police officially classified what happened to Kruchowski as a "non-criminal incident." So what happened then?
No one knows for certain. You'd think if Kruchowski had been hit by a car, his bike would be damaged in some way. It could have been a run-of-the-mill cycling accident, but the severity of his injuries would seem to belie that. Kruchowski has no memory of the incident, and no witnesses have come forward with information.
Tonight residents of the Tower Grove Park neighborhood gather to discuss the incident, and the threat of the knockout game returning with the warmer weather. Pete Kruchowski remains in an area hospital recovering from his injuries.