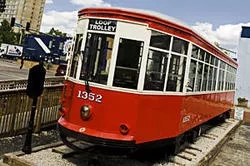 Jennifer Silverberg
The Delmar Trolley, currently idling near the Commerce Bank.
Word out of Kansas City is that our
frenemy city has applied for a $25 million federal grant
to help build a $101 million streetcar line connecting Crowne Center (25th Street) to the River Market (Third Street), which is roughly the same dollar amount the
Loop Trolley project was awarded back in 2010
.
If you clicked on that second link above, you'll see that at the time the Loop Trolley was awarded, the belief was that construction would have begun in late 2011 and the project was to have been completed "six to eight months later." I just peeked out the front window, and it doesn't look like we're two months away from having the trolley back in action.
Of course the economy's sluggish, and there are often delays and small setbacks in a civic project, as well as
the machinations of various objectors
. But this is not about nay-saying and excuse-making. This is about making something happen in St. Louis -- and also about sticking it to Kansas City.
I propose we handle this as in the glory days of Manifest Destiny and railroad barons, only without the wholesale slaughter of minorities and bison. We pit our trolley-building team against their streetcar team and we race to the finish. Let us strive to complete our trolley with brawn and dollar, and prove that St. Louis is a city on the go. Let the better city win, and reap the benefits of a 19th century transportation system!
As a personal aside, I lived in Kansas City for a number of years, and I can say with the utmost confidence it is not the better city, no matter what city you place in comparison. It's like living in an episode of
The Walking Dead
, but with more meth and fewer friendly faces.
So let us crush them with our trolley-building prowess, and then point and laugh at their toothless, tear-stained faces. It's the American way. Clang-clang, motherlickers.