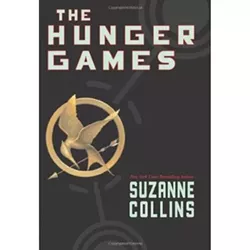 People are still hungry for Suzanne Collins' books seven months later, by gar.
Here's your weekly St. Louis bestseller list for the week ending March 11, as compiled by the
St. Louis Independent Booksellers Alliance
and based on sales at
Left Bank Books
,
Main Street Books
,
Pudd'nhead Books
,
Subterranean Books
and
Sue's News
.
Back in August
, our pages were aflutter because all three books in Suzanne Collins'
Hunger Games
series had shown up simultaneously on the Young Adult list. With the movie impending, all three books are bunched up in the 2-through-4 holes on this week's list. Can one of 'em fight their way to the top spot? Will we see the first ever three-way tie for first (that's known as a
Reverse Minutemen
, for all you nautical fans out there) on next week's list? Only time, and the opening weekend box office gross, can tell.
Incidentally, one title from that fateful August 7 list remains on the Adult Bestsellers' list seven months later. I have no idea what Light Bringer is about, but apparently a whole lot of you do.



Adult Bestsellers:

1. No Excuses: 9 Ways Women Can Change How We Think about Power: Tools for Leading an Unlimited Life by Gloria Feldt
2. Bossypants by Tina Fey
3. Finally a Locally Produced Guidebook to St. Louis by and for St. Louisans Neighborhood by Neighborhood by Amanda Doyle
4. Guerillas in Civil War Missouri by James W Erwin
5. Sex at Dawn: How We Mate, Why We Stray, and What It Means for Modern Relationships by Christopher Ryan
6. Dear Midge by Roy Wunsch
7. Heart and the Fist: The Education of a Humanitarian, the Making of a Navy SEAL by Eric Greitens
8. Death Comes to Pemberley by P. D. James
9. Light Bringer by Chris DiGiuseppe and Mike Force
10. The Vow by Dana Wilkerson



Children/YA Bestsellers
1. Super Sized Slugger: Cal Ripken Jr's All Stars #2 by Cal Ripken, Jr.
2. The Hunger Games by Suzanne Collins
3. Mockingjay by Suzanne Collins
4. Catching Fire by Suzanne Collins
5. Disney at Dawn by Ridley Pearson
6. Pandemonium by Lauren Oliver
7. Oh Baby The Places You'll Go! by Dr. Seuss
8. Katie Kazoo, Anyone But Me by Nancy Krulik
9. Hothead: Cal Ripken Jr's All Stars #1 by Cal Ripken, Jr.
10. A Boy Called Dickens by Deborah Hopkinson and John Hendrix