Probably my last chance to use the old Tiger ball statue picture for awhile; had to get it in at least once more.
Okay, so who had
St. Louis U
advancing and the
Missouri Tigers
going out in the opening round? Show of hands, please.
Alright, everyone look around. See those people with their hands up? Those people are liars. Do not trust them, no matter what they tell you. You do, and you'll end up with the deed to a bridge somewhere and a handful of Chinese manufactured generic Viagra.
Kidding aside, if you had told me a week ago the Billikens would advance further into the NCAA Tournament than Mizzou would, I likely would have either laughed in your face (if I thought you were just a little crazy), or backed away slowly while keeping you within my field of vision. (If I thought you were a lot crazy.) Even before the seeds came down.
So what happened?
What happened for the Billikens is simple: they played their game.
I said in my preview of their matchup with Memphis
that if the final score looked something like 58-53 the Billikens had a good chance of winning; they final score of the actual contest was 61-54. Honestly, I'm rather proud of that particular bit of analysis/prognosticating/wild-ass guessing.
Of course, I also picked Memphis to win, proving another point I made in said preview: I suck at picking tournament teams. So, you know, win some, lose some.
But my own failings aside, Rick Majerus got his team to do exactly what he wanted them to do. The Billikens slowed the Tigers down, played brilliant half court defense, and forced bad shots. They held one of the nation's more high-powered offenses to just 39% shooting from the floor. The Tigers put up fifteen three-point attempts; they made only two.
Boiling down such a beautiful team performance to just a few individual efforts seems unfair, but if I must (and it makes it so much easier to write coherent articles if I do), then there were three players for SLU who went above and beyond. Brian Conklin, all year long the Billikens' strongest player, started off miserably, struggling to score and committing turnovers left and right. The finish for Conklin, though, was brilliant, as he hit 10 of 11 free throws -- including five in the final minute -- to salt the game away. (Honorable mention: Jordair Jett, who made four extremely clutch free throws of his own in the waning minutes, in addition to playing his usual brand of bulldog basketball.) Dwayne Evans was a rebounding machine, going over, around, and occasionally through larger players en route to a brilliant performance. Memphis was the athletic marvel, yet the Billikens outrebounded them. Evans was a huge part of that.
The biggest story of all, though, was Kwamain Mitchell's outburst. Mitchell was the best player on this Billiken team two years ago; last season he sat out, suspended for violations of school policy related to his part in a sexual assault case. This year he returned, he was productive, he did a nice impersonation of a point guard. The dynamic scoring presence SLU fans saw in 2009-2010 was nowhere to be found, however.
So what did Mitchell do in what could have been his last game in a Billikens' jersey? He ensured it wouldn't be his last game in a Billikens' jersey, that's what. He recorded only one assist on the evening, but he put up 22 points overall and put the team on his shoulders late in the second half as the Bills climbed back from an eight point deficit that looked all but insurmountable.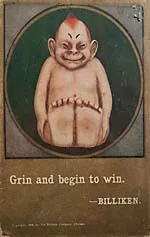 Not a bad motto, you know?
​A couple outstanding performances, solid execution of the gameplan, and a commitment to playing their game. That's what went right for the Billikens.
So what went wrong for the Tigers? Well, I would like to tell you they played horrible basketball, abandoned the gameplan, and just generally shit the bed, proving Frank Haith a choker in the process. But I can't. Not entirely, anyway.
What happened to Mizzou is as simple as it was frustrating: the same issues the Tigers have struggled with all season jumped and bit them squarely in the hindquarters. Namely, a lack of size.
All season the Tigers struggled against big, physical teams capable of dominating in the paint. They beat Baylor because the Bears play soft. Kansas, on the other hand, gave them a tough time. Even worse was Kansas State, who not only played big but played physical, bullying the Tigers all over the court.
Kyle O'Quinn, Norfolk State's senior big man -- stands 6'10", plays closer to 8'10" -- simply dominated down low. Ricardo Ratliffe and Steve Moore were both overwhelmed. O'Quinn collected 26 points and pulled down 14 boards; the Tigers simply had no answer.
Oh, and one other thing. Norfolk State shot 33% from three-point range on the season. Against Mizzou, they shot 54% from beyond the arc. You aren't going to win many games when the opposition shoots 21 percent better from downtown than they normally do.
But, as is so often the case, those stats only tell part of the story. The Tigers didn't play defense; you'd be surprised how often teams have good shooting days when their opponents don't pressure the ball. Both of Mizzou's big men had atrocious games. Kim English couldn't shoot on one healthy leg.
Despite all that, the Tigers made it close. But when you can't stop the outside game because you aren't pressing and the opposition is shooting out of their minds, and you can't stop the inside game because you're just overmatched, it's tough to win many games. The Tigers' biggest flaw was exposed, the ghost of Laurence Bowers hung heavy in the air, and their opponent played a perfect game. Missouri is going home.
And do you know what the worst part of the whole ordeal was? Having to listen to Marv Albert the entire game referring to Phil and Matt as the Presley brothers. Phil Pressey is a fairly well-known player nationally, Marv. Maybe you could have been troubled to get the name right just one goddamned time?
Then again, screw it. You lose in the opening round, who cares if they get your name right?
Now the Billikens move on to the round of 32, where they will face the top-seeded Spartans of Michigan State. It's another brutal draw for SLU, but if these two teams taught us anything on Friday, it's that it isn't always the best team that wins; it's the team that plays its game best.
Oh, and the one capable of actually playing defense. Doesn't hurt at all.