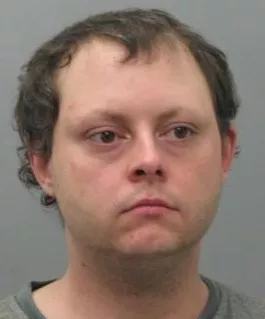 Maplewood Police Department
Williams Lawrence really wanted his guns back following marijuana arrest.
An affidavit accompanying criminal charges filed last week against a Maplewood resident suggests that the founder of Craigslist, Craig Newmark, personally got involved in helping detectives in their investigation.
William Lawrence was charged last Friday with murder-for-hire after he allegedly placed an ad on craigslist.com offering to pay for the death of any Maplewood police officer, and specifically the department's evidence custodian.
Lawrence's anger with police stretches back weeks earlier when police were called February 9 to the apartment the 32-year-old shares with his mother.
According to police, Lawrence got into a disturbance with a neighbor that prompted a call to authorities. Once on the scene, police discovered that Lawrence had an outstanding warrant for failing to appear in court. But when authorities tried to arrest him, they say he lifted his his shirt as if to remove a weapon. Police shot him with a Taser and then performed a protective sweep of his mom's apartment.
In Lawrence's bedroom, police detected a "strong odor of raw marijuana" and discovered a large pot plant as well as drug paraphernalia. They also discovered a shotgun with no serial number and a .22 caliber rifle. Police seized the weapons for criminal trial -- a move that Lawrence couldn't comprehend.
After being released following the marijuana arrest, Lawrence began pestering police to have his guns returned. Within three weeks he'd called the department five times to ask for the firearms. He even appeared in person demanding that evidence custodian Kerry Daniels return the guns immediately.
Then on March 1, a police officer in nearby Arnold called over to Maplewood to notify them of an advertisement he just saw on Craigslist, reading:
"Wanted dead, all the maplewood city police officers, paying one million per head. two million for detectives Kerry Daniels."
According to the affidavit, Maplewood police then called Craigslist founder, Craig Newmark.
"Mr. Newmark was able to provide a printed copy of the original posting, along with the email address of the person responsible for the post," the affidavit reads. "In addition, Mr. Newmark provided the IP address associated with the computer from which the advertisement was placed."
Armed with that information, it took police no time to find that Lawrence had placed the ad from his home computer. Police arrested him back at his mom's apartment on March 2.
Sgt. Matt Nighbor, spokesman for the Maplewood police department, declined to provide any more details about his investigator's correspondence with Craigslist.
"All I can say is that they were tremendously helpful," says Nighbor.
A message to Craigslist for comment was not immediately returned.
As for Lawrence, he has no job and in 2006 declared bankruptcy, so it's unlikely he could have paid the million dollar bounties he placed on the head of Maplewood police officers.
Lawrence's mother says he's bipolar, but prosecutors maintain he's a safety threat and are continuing to press charges. If convicted of the murder-for-hire plot, Lawrence could spend ten years in prison and pay fines up to $250,000.