A little after midnight on January 15, 2010, the following call came into Lambert Airport:
Note that the the bomb-toting passenger was supposedly a black male named "Dorian." Well, no explosion ever happened, but this call was traced back to
Dorian Williams
, a 36-year-old black male from north county.
Williams, whom government psychiatrists have diagnosed with "
delusional disorder, grandiose type
," has a history of threatening to murder people, and has been arrested several times for it.
In this particular case, the government argues that Williams made the call in retaliation against airport police, who arrested him while he was allegedly trying to get to Colorado to obtain a USA Cycling license. (Part of his delusion is that he was a world-class cyclist; for the whole story, see this week's feature story, "
Vicious Cycle
.")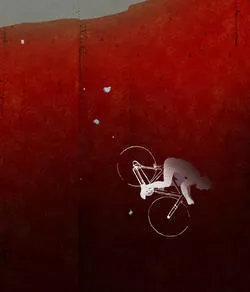 Illustration by Brian Stauffer
Normally, the maximum sentence would've been sixteen months. But after a jury convicted him in federal court for making this call to Lambert, he was sentenced to an enhanced prison term of eight years because the judge considered him a "career offender."
However, Williams has never perpetrated any violence, which provokes the question: Have the cops always foiled his plots in the nick of time? Or did he never really intend to carry out the threats?
The bomb phone call to Lambert is a good example of this ambiguity. Listen to his tone of voice. It does not suggest any kind of malice or mental illness at all.
In his appeal, Williams' court-appointed attorney,
Diane Dragan
, argues that the statutes under which Williams was convicted (18 U.S.C. § 35(b) and18 U.S.C. § 844(e)) are:
so broadly drafted, and in this case, were so loosely applied, that they allowed for Williams' conviction based on the minimal finding that he acted with no more intent, and caused no more disruption, than to "vex and annoy" airport personnel. Therefore.... Williams was convicted under statutes that criminalize behavior protected by the First Amendment.

However, the call certainly caused the airport's security apparatus at the airport to swing into full motion (for more, click
here
).
Assistant U.S. Attorney
John Sauer
said at sentencing,
Regretfully, I have to say, it appears that Mr. Williasm cannot be trusted to be out in society without committing these kinds of offenses.

His appeal hearing has not yet been set.