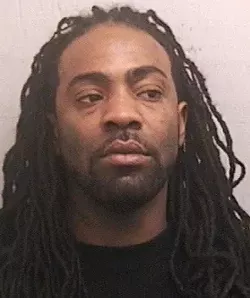 Keith Homan: Next on his to-do list? Vomit.
Police were called to the West Pheasantwood Apartments in Belleville on Sunday to quell a fight in progress. Keith P. Holman, 25, was one of the brawlers, and refused to comply with police instructions to break it up, instead allegedly becoming combative with the officers. He was taken into custody despite his protestations, and made the trip to the police station where he soon requested medical aid for injuries incurred during the initial fight.
Regulations required two police officers to accompany him in the ambulance because of his earlier recalcitrance with the arresting officers. Holman resumed his feisty nature on the way to the hospital, threatening his police escort and their families, and spit on an EMS worker and one of the officers both in the ambulance and at the hospital.
You may be surprised to learn that Holman was out on bond for a September 17 incident that garnered him charges of aggravated battery to a police officer and resisting arrest -- he bit a Belleville patrol officer in that incident. He posted bond in that case and was released with an ankle monitoring device; those charges are still pending.
For his latest hittin' and spittin' dust-up, Holman has been charged with aggravated battery to a police officer and aggravated battery to an emergency medical technician. Bond has been set at $200,000.
And perhaps they should affix one of those salad bar sneeze guards to his neck to keep him from playing cobra on any more officers.