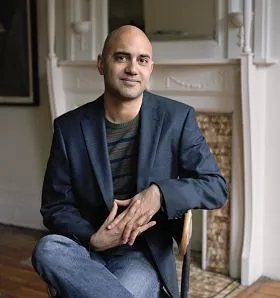 Nina Subin
Ayad Akhtar, novelist, playwright, screenwriter, exhausted.
Ayad Akhtar is a lucky man. His first novel, American Dervish, came out in January and has received extravagant praise from the likes of the New York Times and NPR; you can hear him read from it this Wednesday, February 29, at Left Bank Books. Next month, for a few days anyway, he will have two plays running simultaneously, Disgraced at the American Theater Company in Chicago and The Invisible Hand, which has its world premiere at the St. Louis Repertory Theatre's Emerson Studio Theater on March 7. Plus, he gets to eat bacon, which he considers the most flavorful of foods.
This wasn't always the case -- not just the success on multiple fronts, but also the bacon-eating. Growing up in a Pakistani-American family in Milwaukee in the early 1980s, Akhtar tried to follow the Islamic laws of halal, which forbid the eating of pork. The taboo finally fell in an airport the year he was twenty, when he tasted his first bratwurst. He fictionalized the experience in the opening pages of American Dervish: "My heart raced as I chewed, my mouth filling with a sweet and smoky, lightly pungent taste that seemed utterly remarkable -- perhaps all the more so for having been so long forbidden. I felt brave and ridiculous....I looked up at the ceiling. It was still there."
Now Akhtar is 41. In town two weeks ago for rehearsals of The Invisible Hand, he briefly became a breakfast regular at the Boardwalk Cafe in Webster Groves. During an interview, he ordered his eggs with sausage. The ceiling there hasn't caved in, either. Would anyone expect it to?
The truth is, many non-Muslim-Americans probably know very little about why Akhtar, or his protagonist Hayat Shah, would worry about the ceiling caving in in the first place. Ordinary Muslim-Americans -- as opposed to terrorists -- remain very much an unknown quantity. American Dervish is maybe the first novel to describe what it's like to grow up Muslim in the U.S. In order to avoid the specter of 9/11, Akhtar consciously decided to set the novel in the early eighties, when, as he puts it, "nobody knew what Muslims were."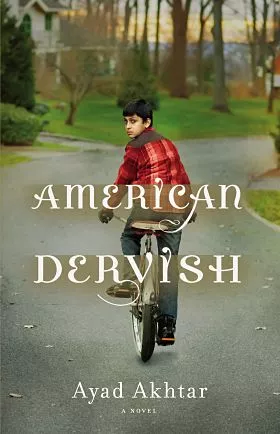 "I think people want me to write about Muslims in a different way," he says, "in a spokesman way, to balance everything else that's out there. But I try to tell stories as true as I can, without a political agenda."
So instead of oil and war and terrorism, American Dervish concerns itself with the religious preoccupations of ten-year-old Hayat Shah after his mother's best friend Mina, fleeing a bad divorce, moves in with the family. Both Hayat's parents, particularly his father, are defiantly secular, but Mina's gentle spirituality charms and calms Hayat and inspires him to devote himself to studying the Koran. And then, almost simultaneously, Mina falls in love with a Jewish man and inspires Hayat's first twinges of puberty (to put it delicately), an event that terrifies and mortifies him and drives him toward Islamic fundamentalism.
Akhtar controls this material with a light hand -- even the scenes where various characters debate the proper interpretation of Koranic passages. This is where his training as a screenwriter came in handy (he studied film at Columbia University and wrote and starred in the drama The War Within.) "I hate boring the audience," he explains. "A lot of artists with my preoccupations are less interested in holding the audience's attention. But I believe art has to give pleasure, in addition to being about a personal vision."
Strangely -- or maybe not so strangely, depending on how you look at it -- Akhtar says he's been strongly influenced by the Jewish-American sensibility: Philip Roth, Saul Bellow, Jerry Seinfeld, early Woody Allen and Chaim Potok. (Potok's characters are also prone to scriptural interpretation.)
"That sensibility made sense to me," Akhtar explains. "Many Jewish-Americans identify as Jewish, as opposed to their nationality, in the same way that, for Muslims, being Muslim is more important than where you're from -- though that has changed a little as of late.
"Those Jewish-American writers have a preoccupation with the audience," he continues. "When you come from a minority identity, you're addressing not just minority community, you're addressing the majority, too. You have to understand the majority consciousness and relate to it. The great Jewish-American writers entertained and cajoled and challenged. They're different from domestic WASP writers. There's a restlessness and a searching quality in those writers that I'm inspired by. Their identity isn't a settled matter."
Akhtar's new play, The Invisible Hand, also concerns the relations between WASPs and Muslims, but it takes the form of a thriller. A group of Islamic militants in Pakistan kidnaps a white American trader who is an expert in emerging markets. The State Department's rule prohibiting negotiations with terrorists means nobody is going to pay the trader's ransom. Matters seem to have reached a deadlock, until one of the terrorists comes up with a solution: How about putting the prisoner to work buying and selling and trading in order to raise his own ransom? (In economics, the term "invisible hand" refers to how, by pursuing their own selfish interests, traders sometimes inadvertently improve society.)
"Something in the business mindset is more natural to me than the artistic one," Akhtar admits. "The chaos in the artistic sensibility doesn't appeal to me. My artist friends are surprised I read the Wall Street Journal."
In order to prepare for both plays and promote his book, Akhtar has been spending the past few months shuttling between Chicago, St. Louis and New York, where he lives, in between stops on his book tour. Sometimes he tries to work on his next novel, about a Muslim-American artist in Vienna (the city, Akhtar notes, that marked the borderline between Muslim and Christian Europe). "It's a whirlwind," he says. "I'm very lucky, but I'm in a state of advanced exhaustion."
Akhtar's phone buzzes with a new e-mail message. The honors college at Louisiana State University has decided to make American Dervish required reading for all incoming first-year students.
Akhtar looks puzzled, and then pleased as he reads the message again. "I'm very grateful," he says slowly. "But I really don't understand what's going on."