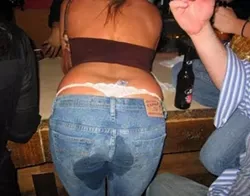 See? It's all contained in the pants region.
An unidentified female suspect broke into a High Ridge business on Saturday night and stole two sweat shirts, according to the Jefferson County Sherrif's office police blotter. She really needed them, as she had peed herself so severely that she was wearing one sweatshirt in the traditional manner, and had fashioned the other into a skirt.
How does a woman pee so much that she has to change her shirt?
Police found the suspect wet-handed in a locked bathroom inside the business. She was taken to the Jefferson County Jail without incident and charged with first degree burglary.