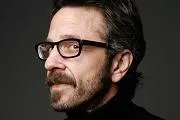 For comedy nerds, standup
Marc Maron
needs no introduction; for the rest of you, he's one of the artform's leading intellectuals, a "Dostevskyan cut-up" (
writes
James Wolcott
), who is "angry, probing, neurotic and a vulnerable recovering addict" (says the
New York Times
).
But most importantly for our purposes here, he's a parable of DIY success: With few prospects in 2009, he launched a podcast called
WTF
, done mostly out of his garage. Now, more than 200 interviews later, it's become "the definitive comedy podcast of record," (
quoth Ira Glass
) and resurrected his career.
So it seemed like a fairly big deal yesterday, when Maron called out a St. Louis comic,
Rob Durham, who recently wrote a how-to book on how to break into standup
the traditional way:
But it turned out that Maron was defending comedy-as-artistic-expression first and foremost. Durham's book is mainly about the nuts-and-bolts logistics of making money in the industry. Are these mutually exclusive?
It's not clear from the Twitter convo that ensued (in which anther comic,
Jay Black
, caught Maron's tweet and assumed the role of Durham):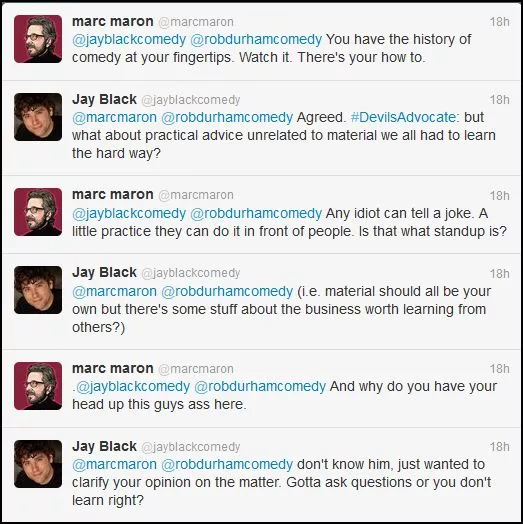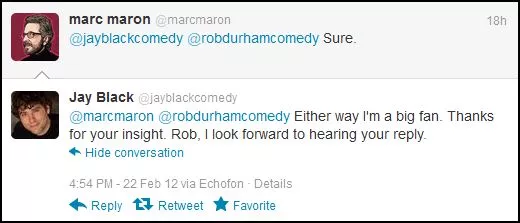 So far, Rob Durham himself has not responded on Twitter.
What say you, Rob?