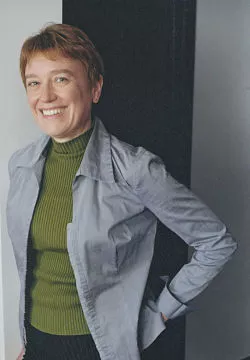 The movie version of The Hunger Games arrives in theaters one month from today. If you want to ease the agony of suspense, you could do worse than distracting yourself with the work of St. Louis writer Carolyn Ives Gilman, whose novella "The Ice Owl" has just been nominated for a Nebula Award, the highest honor in science fiction writing.
Like The Hunger Games, Gilman's science fiction, which also includes several novels, most recently Isles of the Forsaken and its sequel Ison of the Isles, out in April, concerns the lives of tough young women growing up in societies that are about to be transformed by revolution and genocide.
This will be Gilman's third trip to the Nebula Awards, which will be held this year in Washington, DC on May 19. Members of the Science Fiction and Fantasy Writers of America will vote for the winners next month. "It's modeled after the Academy Awards," Gilman says. "There was even a red carpet last time. It's all very tongue-in-cheek."
Like many writers, Gilman has a day job, as a historian. She's written several books on the history of the American frontier, specifically the clashes between settlers and Native Americans in the eighteenth and nineteenth century, and she works as a curator at the Missouri History Museum. History and science fiction, she says, are not as disparate as some people might think.
"There's a great deal of overlap between people who read history and science fiction," Gilman says. "Both are about society, analyzing larger questions about how technology and society interact, how empires form. It's not deliberate," she adds. "I didn't set out to make it sound like it all fits together. But you're a victim of what your interests are."
Science fiction, however, gives her some critical distance to write about contemporary events. "My fiction tends to be topical," she says. "Part of science fiction is being able to talk about things going on in the world today. The distance frees you to make observations about society which get challenged if you say them about real people. It's a freeing and useful thing."
The writer whom Gilman most admires, and to whom she is most often compared, is Ursula LeGuin, who also had a strong background in social sciences -- in LeGuin's case, anthropology -- which informed much of her writing. "She was also very political," Gilman adds.
Gilman accepts the comparison of her work with The Hunger Games. "Dystopian fiction is very popular with teenagers and young adults," she says. "My work isn't aimed at young adults -- it deals with very adult things -- but young adults do read it anyhow. Some send me fan mail. It's very touching to have learned that you've had a formative influence on someone's life. It's kind of moving."