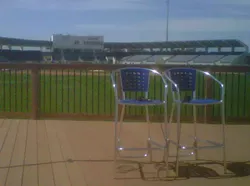 Tampa Bay Rays beatwriter Marc Topkin took this beauty.
[UPDATED: See following page]
The combination of Twitter and cell phone photography meets its zenith -- and nadir -- in the work of America's baseball beat writers. These reporters have been set free from offices after their long winter naps, and all the green grass, blue skies and non-story sameness of spring training's early days runs headlong into the need to justify the expense of sending a reporter out to the Grapefruit or Cactus league. But what is there to cover other than green grass, blue skies and out-of-shape sluggers?
Enter
Bad Spring Training Twitpics
, your one-stop destination for the best of the worst "you are there!" photography, sportswriter category. The anonymous operator of the Tumblr site calls his page, "A tribute to all those beat writers capturing horrible, blurry images of some of the most mundane shit imaginable," and it is exactly as advertised. There are no photos from the
Post-Dispatch
team (yet), and the archives are a little thin right now, but it's a long season. There are gonna be tons more crappy photos of empty chairs and unrecognizable players taking batting practice before the real games begin. Let's enjoy 'em all.
[UPDATE 11:21 a.m., Tuesday]
P-D baseball writer (and Spider-Man fan, so you know he's a good guy) Derrick Goold Tweeted the attached photo t'other day, and it is a beauty.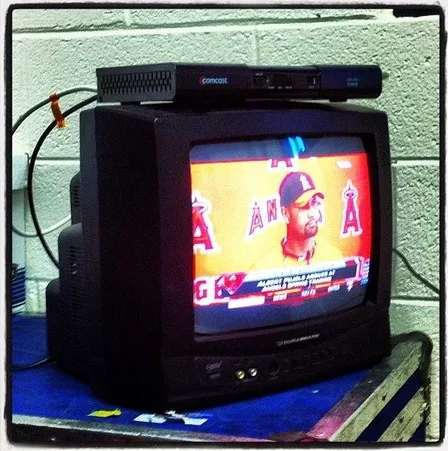 via Derrick Goold's Twitter, twitter.com/#!/dgoold
That's Albert Pujols' press conference from the Angels spring training facility, as seen on the Cardinals' clubhouse TV in Jupiter, Florida. Instagrammed, of course.