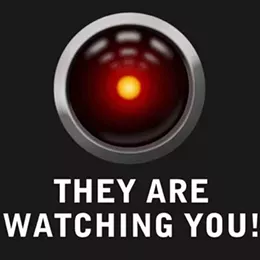 Image via
I seez you, sez U. City Police
We know some of our readers
really, really hate security cameras
-- in fact, they hate the entire system of private property that makes security cameras necessary.
Well, bad news for those folks: The Loop is going to get security cameras this summer.
The nabe's grand poobah,
Joe Edwards
, tells Daily
RFT
that the exact number of cameras has not been determined, although the network will cost some $160,000 to install and will be manned in real-time by the University City police.
In case police can't get to a crime scene in time to prevent an incident, Edwards adds, the cameras would be powerful enough to zoom in on a face or a license plate. They'll mostly go up on existing buildings, but eventually, he hopes, they'll be in the parking lots and on sidewalks, too.
Cpt.
Mike Ransom
, tells us "the cameras are just in conceptual stage at this point," and to check back in a month and a half for more specifics. Edwards echoes this, that the details will all be hammered out within the next eight weeks.
Asked whether he's gotten any flak from the privacy-rights camp, Edwards says, "not at all."
He also adds some good news: according to crime stats released two weeks ago by the city, crime is at a 40-year low in the Loop.
(See also recent coverage in
Wash U.'s student newspaper
and
KSDK
)