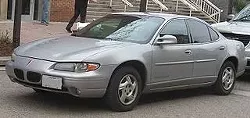 Four-door Pontiac Grand Prix similar to the one in the accident.
The 21-year-old driver of a Pontiac Grand Prix is in police custody after killing his two passengers in a high-speed collision with a Metro Call-A-Ride bus on Saturday.
Morion Robinson, 21, died Saturday night in the hospital. Daionsha Scott, 19, died at the hospital on Sunday. The driver of the car was treated and released into police custody.
Police say the Grand Prix was speeding and ran the red light about 1 p.m. on Saturday, smashing into the Metro bus. A Volvo then collided with the Grand Prix, sending its driver, a 51-year old woman, to the hospital in serious but stable condition.
No charges have been filed against the driver yet, but you can probably spot a whole slew of them -- reckless driving and vehicular manslaughter come to mind -- but there is no charge possible for "dangerous stupidity." Whoever our lead-foot driver is, he's certainly guilty of that.