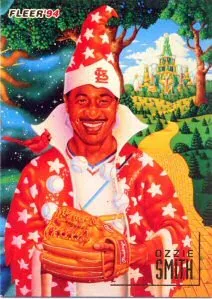 Terrible baseball card, great player.
Hall of Famer Ozzie Smith is finally going to spring training with the Cardinals. The perennial Gold Glover never saw eye to eye with Tony La Russa when he took over the reins in 1996 -- it had something to do with Ozzie beating out incoming young short stop Royce Clayton in spring training, and then La Russa platooning the pair rather than giving Ozzie his usual position -- and Ozzie decided to retire at season's end rather than playing for La Russa.
Ozzie had long maintained that he wouldn't have anything to do with the team as long as La Russa was involved. He was true to his word. Now that La Russa's gone, the chance existed that the Wizard would finally take his rightful place on the team as a legend available to younger players.
Cardinals skipper Mike Matheny made sure that chance didn't go squandered, reaching out to Ozzie and personally asking him to come back. And so once again, Ozzie Smith will don a Redbirds uniform in spring training, this time as a baseball sage.
You could argue that what Ozzie knows about playing short stop can't be taught -- what he had was a kinetic genius for fielding that was an innate gift and not something learned. Remember, however, that Ozzie was a light-hitting player early in his career who trained hard in the cage to make himself a better hitter. And that's the sort of skill that can be taught.